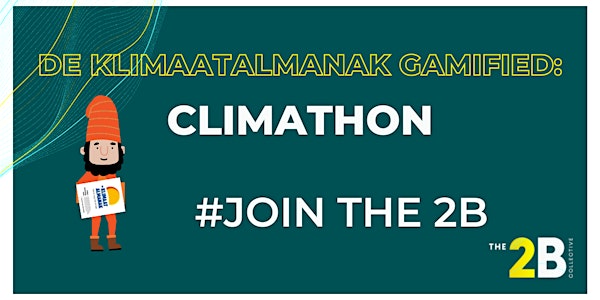 Climathon: De Klimaatalmanak/The Carbon Almanac gamified (NL&EN)
Werk mee aan klimaatactie en activeer grote groepen mensen! Collaborate on climate action and activate large groups of people!
When and where
Location
KIT - Royal Tropical Institute 63 Mauritskade 1092 AD Amsterdam Netherlands
About this event
--------English below--------
Ben jij student en gedreven om klimaatactie te ondernemen? Doe dan mee aan de Climathon op 25 augustus op ons kantoor in Amsterdam!
Tijdens deze eendaagse Climathon werk je samen met andere studenten aan een gamified engagement programma over het baanbrekende boek De Klimaatalmanak. Tijdens deze dag ga je in groepjes aan de slag en zet je het aan jou toegewezen hoofdstuk van het boek om in gamified content met quizvragen, real life acties en polls en shares. Het 2B Collectief helpt en begeleidt je het hele proces.
Je schrijft mee aan een baanbrekend gamified leerprogamma en je kunt prijzen winnen voor het ontwikkelen van de beste challenges. De Klimaatalmanak is geschreven door meer dan 300 vrijwilligers wereldwijd en ook het gamified programma willen we samen creëren.
Naast het schrijven van content in deze snelkookpan, kun je inspirerende en verdiepende deelsessies bijwonen. Ontmoet gelijkgestemden studenten van verschillende opleidingen terwijl je leert over gedragsverandering, gamification, klimaatactie in je werk en hoe je duurzame netwerk te verbreden.
De hele dag wordt gefaciliteerd met eten, hapjes, drankjes en natuurlijk sluiten we de dag af met een hapje en een drankje. Er zullen genoeg kansen zijn om een wandeling te maken in het park en om gesprekken te voeren met andere studenten of met een van de aanwezige experts.
Wanneer?
25 augustus 2022 van 10.00 tot 20.30 + borrel
Waar?
Koninklijk Instituut voor de Tropen, Amsterdam Oost
Wat?
Samen met andere studenten werk je aan een oplossing om grote groepen mensen te leren:
- over het klimaatvraagstuk
- gesprekken te voeren over het klimaat
- zelf actief keuzes te maken voor een beter klimaat
Het programma:
9:30 Ontvangst en inloop
10:00 Introductie en inspiratie
10:30 Workshop content schrijven
11:30 Aan de slag - verspreiden door KIT
19:00 Posterpresentaties en pizza
20:30 Borrel
22:00 Einde
Deelsessies:
Gamified leren? Tell me more!
De Klimaatalmanak door Michel Porro (Nederlandse auteur en ambassadeur van het boek)
Content schrijven: zo wordt je een ster!
Maak jij je zorgen over het klimaat? Cleanup-weeting door het Oosterpark
Het klimaatvraagstuk & starten met werken: hoe kun jij het verschil maken?
Inzicht in het menselijk brein: waarom is gedragsverandering zo moeilijk?
Hoe verbreed ik mijn duurzame netwerk?
Heb je nu al vragen? Mail ons op info@the2bcollective.com
--------English--------
Are you a student and driven to take climate action? Then join the Climathon on August 25 at our office in Amsterdam!
During this one-day Climathon you will work with other students on a gamified engagement program about the groundbreaking book The Climate Almanac. During this day you will work in groups and convert your assigned chapter of the book into gamified content with quiz questions, real life actions and polls and shares. The 2B Collective will help and guide you through the entire process.
You'll co-write a groundbreaking gamified learning program and you can win prizes for developing the best challenges. The Climate Almanac is written by more than 300 volunteers worldwide and we also want to create the gamified program together.
In addition to writing content in this pressure cooker, you can attend inspiring and in-depth sub-sessions. Meet like-minded students from different programs as you learn about behavior change, gamification, climate action in your work and how to broaden your sustainable network.
The entire day will be facilitated with food, snacks, drinks, and of course, we will end the day with a snack and a drink. There will be plenty of opportunities to take a walk in the park and have conversations with other students or with one of the experts present.
When?
August 25, 2022 from 10.00 to 20.30 + drinks
Where?
KIT Royal Tropical Institute, Amsterdam East
What?
Together with other students, you'll work on a solution to educate large groups of people
- about the climate issue
- have conversations about the climate
- to make their own active choices for a better climate
The program:
9:30 Welcome and walk-in
10:00 Introduction and inspiration
10:30 Workshop on writing content
11:30 Get to work in the KIT building
19:00 Poster presentations and pizza
20:30 Drinks
22:00 End
Breakout Sessions:
Gamified learning? Tell me more!
The Carbon Almanac by Michel Porro (Dutch author and ambassador of the book)
Content writing: how to become a star!
Are you worried about the climate? Cleanup meeting in the Oosterpark
The climate issue & starting work: how can you make a difference?
Understanding the human brain: why is behavioural change so difficult?
How do I broaden my sustainable network?
Do you have questions beforehand? Email us on info@the2bcollective.com