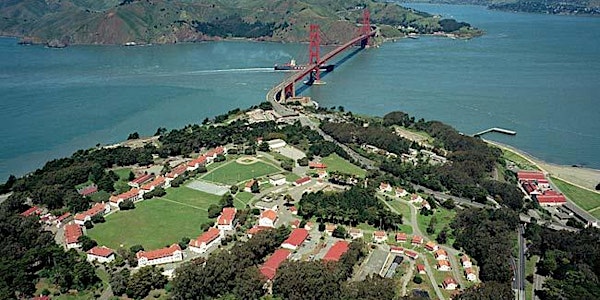 Climate Summit Speaker Series - A Global Climate Action Summit Affiliate Ev...
Location
The Presidio Officers Club
50 Moraga Ave
San Francisco, CA 94129
Description
This two-day series of workshops at the Presidio will highlight response to climate challenges and offer systemic transitions and solutions.

The first workshop, Wednesday, September 12, 5:30 pm - 8:30 pm • Food, Fiber, and Fungi – the "Carbon Pioneers" is an evening seminar featuring Bay Area groups already involved in innovative climate responses that are economically viable. Speakers include Brock Dolman, Anthony Myint, Albert Straus, Mira Michelle Kennedy, Sandra Kwak, Finian Makepeace, Dr. Christopher Potter, Jess Daniels, Erin Axelrod, and Geoff Ainscow. Host: Shawn Rosenmoss SOLD OUT!
The first session of the second day, Friday, September 14, 8:30 am - 11:45 • Get the Dirt on Dirt / Is Money Really Green? will offer panel discussions on the next generation of climate solution designs: from regenerative agriculture, healthy soil promotion and reconsidered materials management to innovative urban infrastructure and decentralized energy projects. Panel members include Calla Rose Ostrander, Kevin Bayuk, Dr. Lisa Micheli, Dr.Jeff Creque, Gabrielle Black, Karri Ving, Dr. Brian von Herzen, Philipe Zaouati and Stephane Le Foll. Host: Kevin Drew.
The second session of the second day, Friday, September 14, 1:15 pm - 5:00 • Visionaries Reimagining Living Systems will connect, through various lenses, subjects rarely considered together: a systems view of life and its relationship to agriculture, economies and a sustainable future; challenges with human perceptions in the 21st Century; conversations on carbon, environmental literacy and advocacy. Featured speakers include Fritjof Capra, Joshua Fouts, Isabelle Delannoy, Mark Schapiro, Jared Blumenfeld, Aaron Pope, Janaki Jagannath and Josh Whiton . Host: Reinhard Hohlwein
For more information, please see our website at: https://www.climatesolutionsgroup.org/
FAQs
What are my parking options?
There is plenty of parking out front of The Officers Club
How do I get there on public transportation?
Public transportation: times and routes: https://www.presidio.gov/transportation/presidigo
Is there a place nearby to get coffee?
• The Presidio Transit Center has a cafe: https://www.presidio.gov/places/presidio-transit-center
• Starbucks at the Presidio: 1 Letterman Drive Building C
Where can I go for lunch?
(Note: no food is allowed inside the Ortega Ballroom for the Friday Sessions)
• The Arguello restaurant is adjacent to the Officers club building. http://www.arguellosf.com/
• Tides Building/Cafe: (.6m from the Officers Club 1013 Torney Ave, https://www.tides.org/
• Sessions Restaurant, : 1 Letterman Dr #150; 0.9 miles, https://www.sessionssf.com/
• Presidio Social Club, 563 Ruger St, 0.8 miles http://www.presidiosocialclub.com/
• Presidio Cafe at the Golf Course; 0.7 miles, uphill walk, 3 minute drive http://www.presidiocafe.com/
What time should I show up?
For Friday AM workshop: Arrive by 815. Inside and seated by 8:30
For Friday PM workshop: Arrive by 1:00. Inside and seated by 1:10
Is there anything I should bring with me?
Please bring a reusable water bottle for water, as we are trying to have no footprint from our event.
How can I contact the organizer with any questions?
send an email to climatesolutionsgroup@gmail.com