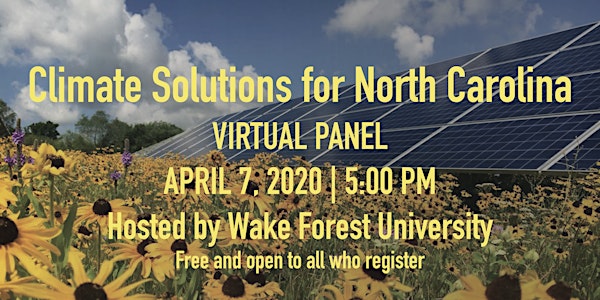 Climate Solutions for North Carolina
State-wide perspectives on NC climate solutions: Accelerating Innovation, Preparing and Protecting Communities, & Reducing GHG Emissions.
When and where
Location
Online n/a n/a, NC 27109
About this event
On Tuesday, April 7, Wake Forest University will host a virtual panel and dialog on climate solutions for North Carolina. This event is part of Solve Climate by 2030 -- webinars across 52 states highlighting state-level climate solutions. Wake Forest University is hosting the webinar for the state of North Carolina.
Given the rapidly changing educational landscape due to the COVID-19 crisis, we hope that this virtual panel will provide an opportunity for faculty members, teachers, community members, and students everywhere to connect over meaningful discussion about climate solutions for our state.
This event is targeted at students, but is free and open to all who register. Access the webinar via this Zoom link: https://wakeforest-university.zoom.us/j/182648037
Meeting ID: 182 648 037
Event Timeline:
5:00 - 6:00pm (EDT) | Perspectives on Climate Action in North Carolina
Panelists will discuss state-level solutions to sharply reduce carbon emissions, prepare and protect our communities, and accelerate innovation.
Panelists:
Jessica Whitehead, Ph.D., Chief Resilience Officer, North Carolina Office of Recovery and Resiliency | NC Emergency Management
Elizabeth Ouzts, Journalist | Energy News Network; Former Director of Communication | Environment America
Steve Kalland, Executive Director | NC Clean Energy Technology Center
Moderator: Dedee DeLongpre Johnston, Chief Sustainability Officer, Wake Forest University
6:00 - 7:00pm (EDT) | Facilitated dialog on climate choices
Following the panel, the Wake Forest offices of Sustainability and Civic and Community Engagement will partner to facilitate a discussion on Climate Choices using Zoom breakout rooms. We will send you instructions in advance on how to prepare to participate.
__________________________________________________________________________________
Unable to join us for the live webinar? Register for the "Recorded Link for Later Viewing" and we will get the link to you afterward. Please note that the facilitated dialog will NOT be recorded. We strongly encourage you to register to participate in the live webinar. This gives you the unique opportunity to discuss and deliberate climate solutions with others in real-time following the panel and get the most out of this virtual experience.
For more information about the webinar hosted by Wake Forest University, contact sustainability@wfu.edu. For more information about Solve Climate by 2030, please click here.