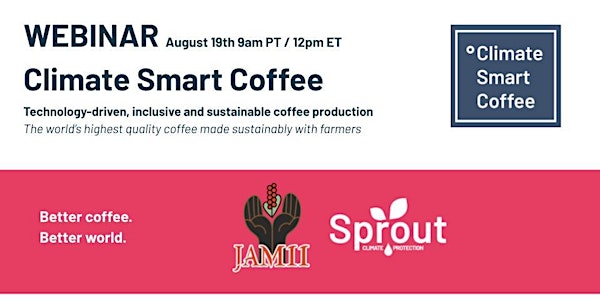 Climate Smart Coffee by Sprout and Jamii Coffee
Jamii Coffee and Sprout introduce Climate Smart Coffee, the right protection for coffee famers to overcome climate change.
About this event
Jamii Coffee is partnering with Sprout to build a transparent and concerted effort to tackle climate change challenges. Sprout provides smart tools for farmers to help them navigate changing climate and weather patterns by using mobile technology — which gives a direct relationship and decreases costs. Sprout offers two protection products:
Sprout Alerts, a text messaging platform that tells farmers about their forecasted weather and pairs it with agronomy advice, and
Climate insurance. The Climate insurance is being co-developed by Sprout and experts in satellite data processing like NASA Harvest, and the coffee producing communities in Kenya.
Please join Ashley King-Bischof, Founder of Sprout, and Francis Kungu, Managing Director of Jamii Coffee in conversation to answer any questions you might have about Climate Smart Coffee and what it means for durability in Kenyan coffee farming communities.