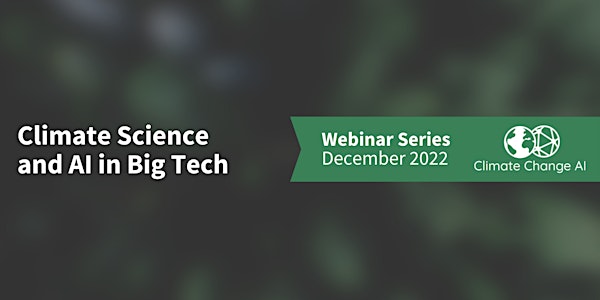 Climate Science and AI in Big Tech
Join us for an exciting webinar discussing climate science and AI efforts hosted by big tech companies and the open-source community.
About this event
Climate Science and AI in Big Tech
Big tech companies are increasing their efforts to build infrastructure for geospatial and climate science research. For instance, Microsoft provides ready-to-use datasets and tools for researchers and industry on its cloud platform (Microsoft Planetary Computer) and NVIDIA is creating a digital twin and AI models for better climate and weather forecasting (Earth-2 & FourCastNet). In parallel, initiatives such as the Pangeo Project have pursued a community-driven model, developing open-source, platform-agnostic software and infrastructure to enable big data geoscience research. In this webinar, we take a deep dive into these efforts and their implications for our ability to address outstanding grand challenges in climate science. Speakers include Dr. Alberto Arribas Herranz (Microsoft Research), Dr. Karthik Kashinath (NVIDIA Research), and Dr. Ryan Abernathey (Pangeo).
December 15, 2022 @ 1pm ET / 6pm UTC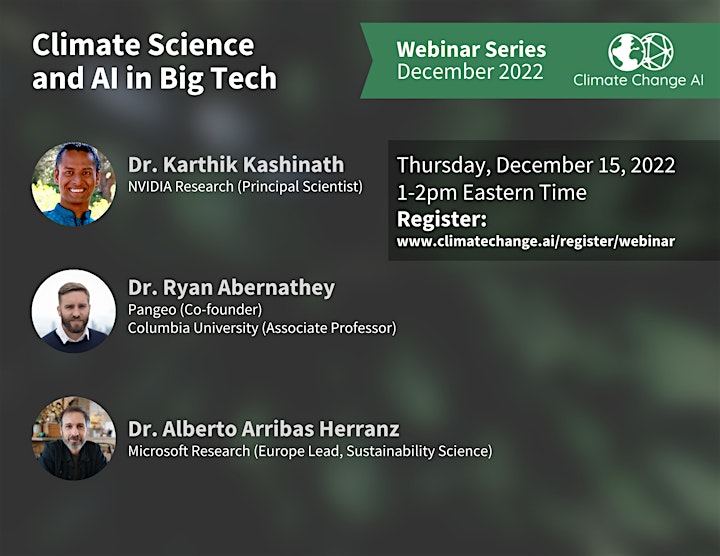 Speaker Bios
Dr. Karthik Kashinath is a principal scientist at NVIDIA Research. Previous to that, he was a scientist at Lawrence Berkeley National Lab. Karthik is a passionate climate scientist with expertise in artificial intelligence, big data analytics, and informatics. He is also an expert in physics-informed machine learning, focusing on applications in weather and climate science. Karthik uses science and technology to address our planet's greatest challenges.
Dr. Ryan Abernathey is an associate professor in the department of Earth and Environmental Sciences, who leads the Ocean Transport Group. Ryan's mission is to advance scientific understanding of how stuff moves around the ocean and how this transport influences Earth's large-scale climate and ecosystems. His research involves working with satellite data, numerical simulations, and observational datasets. Ryan is an enthusiastic advocate for open-source scientific software and is a co-founder and active contributor to the Pangeo Project, a community platform for Big Data geoscience.
Dr. Alberto Arribas Herranz is the Europe Lead for Corporate Environmental Sustainability Science at Microsoft Research. Alberto has over two decades of experience across science and technology. His areas of expertise cover climate modeling, probabilistic forecasting, and the use of new technologies in environmental sciences. He is also a visiting professor at the University of Reading. Prior to joining Microsoft, Alberto led the development of near-term climate prediction systems and end-user applications for the Met Office. He has published widely in the fields of climate modeling and prediction and is a member of the European Environment Agency Scientific Committee and the UK government's Research and Innovation Council "Digital Environment" Steering Committee.