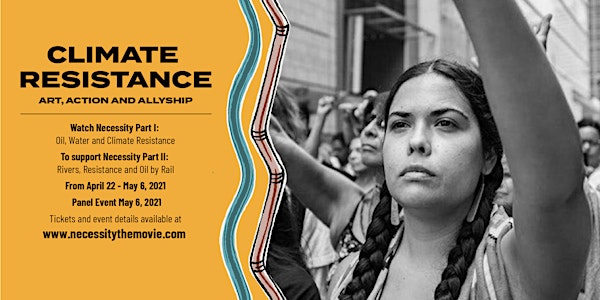 Climate Resistance: Art, Action and Allyship
In celebration of Earth Day & Mother's Day 2021, nurture this beautiful project to completion!
Refund Policy
Contact the organizer to request a refund.
Eventbrite's fee is nonrefundable.
About this event
Climate Resistance: Art, Action and Allyship
Watch Necessity Part I to support completion of Necessity Part II and join us for a panel discussion on May 6th, 6-730pm PST.
WHAT: As the Stop Line 3 campaign to block construction of Enbridge's lethal tar sands pipeline continues, watching Necessity Part I: Oil, Water and Climate Resistance remains part of this national mobilization to educate and inspire action. This special two-week screening opportunity concludes with a panel discussion on Thursday May 6th. The panel includes activists, artists and legal experts participating in the production of Necessity Part II: Rivers, Resistance and Oil by Rail --attorney Direlle Calica, artist Asa Wright, activist and Associate Producer Cathy Sampson-Kruse, activist and teacher Suzanna Kassouf, Co-director Sam Praus, and moderator Assistant Producer Jasmine Eppelsheimer.
The Panel
Moderator:
Jasmine Eppelsheimer works in the field of affordable housing in Portland, OR and is interested in how the housing system can be part of the climate agenda. She completed a bachelor's degree in philosophy 2016. Jasmine is an Assistant Producer on Necessity: Oil, Water and Climate Resistance, drawn to this project having grown up in North Dakota as a person of color and exposed there to the unjust treatment of Indigenous peoples.
Panelists:
Sam Praus is a queer, latinx documentary filmmaker and researcher based in Portland, OR. Her most recent projects include the feature-length documentaries, Necessity Part I Oil, Water and Climate Resistance, (Co-director), Necessity Part II: Rivers, Resistance, and Oil by Rail (Co-director), and Our Bodies Our Doctors (Assistant Director).
Direlle R. Calica J.D. is a citizen of the Confederated Tribes of Warm Springs; she is of Warm Springs, Wasco, Yakama, Molalla, and Snoqualamie tribal descent. She is the owner and Managing Partner of Kanim Associates, LLC, which is a Native American, Women, and Veteran owned company located in Oregon and with an office in Colorado. Direlle is also on the faculty and Director of the Institute for Tribal Government at the Center for Public Service, Hatfield School of Government at Portland State University.
Cathy Sampson-Kruse is an enrolled member of the Waluulapum Tribe of the Confederated Tribes of the Umatilla Indian Reservation. . She is a retired social worker, grandmother, and elder champion of the movement to stop fossil fuel export along the Columbia River, and a powerful and respected voice in protecting clean water from fossil fuels and nuclear waste. Cathy is on the Advisory Board of Columbia Riverkeeper and Associate Producer of Necessity Part II: Rivers, Resistance and Oil by Rail.
Suzanna Kassouf works as a social studies teacher at Grant High School and is a climate activist and co-founder of Sunrise Movement PDX. Kassouf is a pleasure activist and strongly agrees with Cornel West that "justice is what love looks like in public." She's excited to be part of the Necessity documentary project and panel.
Asa Wright is an enrolled member of the Klamath Tribes from Chiloquin, Oregon though he has called Portland home for the last 20 years. He is an artist of many mediums including painting, screen printing, graphic design and cultural arts. Asa has a Bachelor's degree in Public Health from Portland State University and a Masters degree in Collaborative Design from Pacific NW College of Art. He blends his backgrounds in public health and art/design to work on cultural revitalization, decolonization and positive social change.

In addition to an update on the Stop Line 3 campaign, the panelists will be discussing Indignous art and visual storytelling, legal strategies in climate activism, and how to build allyship in the climate justice movement. Attendees will also get a sneak preview of animated storytelling created by Native artist Asa Wright for Necessity Part II.
WHEN: The fundraising screenings are available every day from April 22nd - May 6th. If it says Ticket sales closed, please go to box "Select a Different Date" and you can watch at your leisure between 10am and 10pm that date.
After you select your date for watching the film and make a donation you will receive a link to view the film. In addition, five days prior to the May 6th panel event, you will receive a zoom link to join the panel.
If you have questions about how to secure tickets, please contact outreach@jhaaken.com. For more info on the films, please visit https://www.necessitythemovie.com/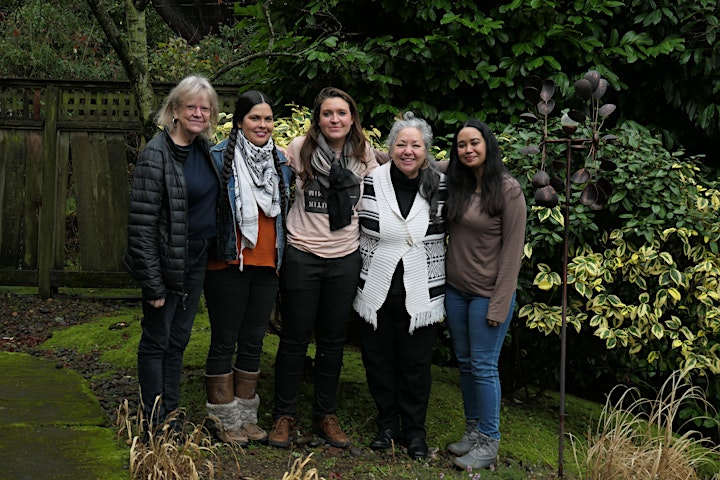 Support The Team!
The Necessity Project team includes Jan Haaken, Director, Sam Praus, Co-director, Frann Michel and David Cress, Producers, Haunani Kalama and Cathy Sampson-Kruse, Associate Producers, Jasmine Eppelsheimer, Assistant Producer, Tara Johnson-Medinger, Consulting Producer, Emily von W. Gilbert, Editor, Sarah Summerhill, Production Assistant, and Laura Roe, Outreach Coordinator. Film Independent serves as fiscal sponsor.
Many of us on the team are volunteers. We also have hard costs in keeping this project on track with our goal of completing Necessity Part II by September 2021. Please pitch in and give what you can to realize the vision of this project and to bring the films to wider communities!
The Films
Grounded in people and places at the heart of the climate crisis, Necessity Pt I: Oil, Water and Climate Resistance traces the fight in Minnesota against the expansion of pipelines carrying toxic tar sands oil through North America. The story unfolds in a setting where activists make a moral case for acts of civil disobedience using the necessity defense. Movement lawyers defending activists in court must prove that the threat of the climate emergency justified acts of civil disobedience and that there were no legal alternatives. Indigenous leaders and white allies carry into this site of struggle their knowledge of resistance strategies, as well as their experiences of loss and trauma, as they work to defend the sacred and demand justice. The film calls into question whether legal strategies are sufficient in responding to the scale of the global climate crisis.
In the course of screening Necessity Part I at schools, activist events, and festivals, the team began production on a Part II, provisionally titled Necessity Pt II: Rivers, Resistance, and Oil-by-Rail. Also feature-length, the film is set along the rivers of Oregon and follows activists as they enlist the necessity defense in a jury trial after being arrested for a direct action at Zenith Energy in Portland. This story of climate resistance in the Pacific Northwest brings into view a historical landscape of tribal leaders, Indigenous activists and white allies as they resist oil trains and trucks carrying these highly inflammable products through treaty lands. In following the path of oil-by-rail and oil resistance along the Columbia, we revisit lessons of the New Deal era of building massive dams and what climate activists take from that era in thinking about a Green New Deal.
Join this inspiring ongoing story of alllyship and Indigenous-led resistance in the fight to save the planet. As Tara Houska proclaims in Necessity Pt I, "there is beauty and purpose in struggle."