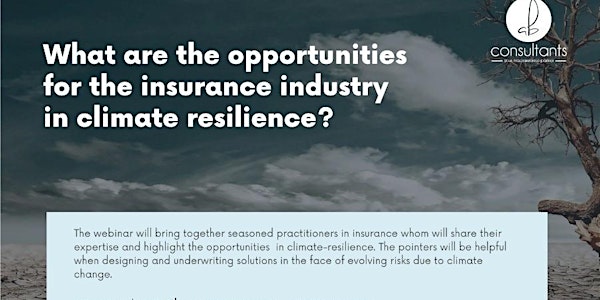 Climate Resilience Webinar
Highlighting the opportunities for the insurance industry in the face of Climate change.
About this event
In recent years, the effects of climate change have been felt across the globe with poor and vulnerable countries being adversely and disproportionately affected by these changes. These countries additionally lack the resources, infrastructure and expertise needed to combat and address the risks brought about by climate change.
In alignment with the Paris Agreement, organizations across the globe are responding by putting in place strategies and resources to address the impacts of climate change.
Climate change has significantly changed what risk looks like and introduced new types and forms of risks. For the insurance industry to remain relevant, there is need to respond to evolving climate risks as well as devise mechanisms to mitigate climate change and create resilience.
Climate resilience is the ability to anticipate, prepare for, and respond to hazardous events, trends, or disturbances related to climate. Improving climate resilience involves assessing how climate change will create new, or alter current, climate-related risks, and taking steps to better cope with these risks.