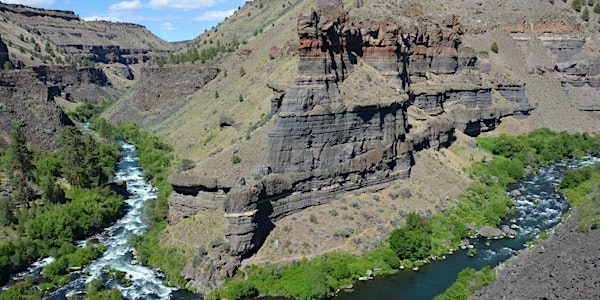 Climate Resilience in Central Oregon by Hal Wershow
Event Information
Location
Crooked River Ranch
5195 SW Clubhouse Dr
Crooked River Ranch, OR 97760
Learn what we can do to diminish the worst impacts and adapt to climate change.
About this event
Friends and Neighbors of the Deschutes Canyon Area
Lens on Learning Program
Climate Resilience in Central Oregon by Hal Wershow
On May 14, 2022 at 6:00pm you are invited to join us at the Juniper Room at Crooked River Ranch for a very timely program on "Climate Resilience in Central Oregon" by Hal Wershow.
Did you know that Oregon has already warmed by 2.75℉ since 1895? And that the droughts we experienced from 2000 to 2018 were the second worst Oregon has endured in the last 1200 years? Our climate is already hotter and drier, and we know this trend will continue; but what can we do about it?
Hal Wershow, assistant professor of Geology at Central Oregon Community College, will share inspiring actions that our community is already taking to diminish the worst impacts and adapt to the inevitable change. He will also present opportunities for how we can thrive in a hotter, drier Central Oregon.
Hal focuses on a sustainability-oriented geology curriculum while involving students in climate-related research. He began his geology career with research projects in Peru and Hawaii, before settling at Los Alamos National Laboratory, where he monitored groundwater for high explosives and radioactivity and took school children on backyard geology field trips on his off-days. His graduate studies focused on how glaciers in the North Cascades have responded to a changing climate over the last 8,000 years. Today, he mentors COCC students studying how springs in the Cascades and Ochocos are responding to our changing climate while teaching field trip-focused geology classes such as G162 - Cascade Volcanoes and G 163 - Rivers Lakes & Springs of Central Oregon. These classes are open to all members of our community!
Registration is required. Please register with Eventbrite through FANs website at www.fansofdescutes.org.
Members of FANs - FREE, non-members $3.00 at the door. Membership applications available at the program.
his event is sponsored by Friends and Neighbors of the Deschutes Canyon Area (FANs), a group founded in 2011 by landowners surrounding the Deschutes Canyon-Steelhead Falls Wilderness Study Area in Central Oregon who came together over their shared love of nearby public lands.  The focus area of FANs includes many special places such as Steelhead Falls, Alder Springs, the Peninsula, Otter Bench and Scout Camp.  Become a member by visiting our website at www.fansofdeschutes.org.  Memberships are just $10 per person per year.
Date and time
Location
Crooked River Ranch
5195 SW Clubhouse Dr
Crooked River Ranch, OR 97760