Description
Be the Change
Global Warming will change our world, unless we choose to change course first.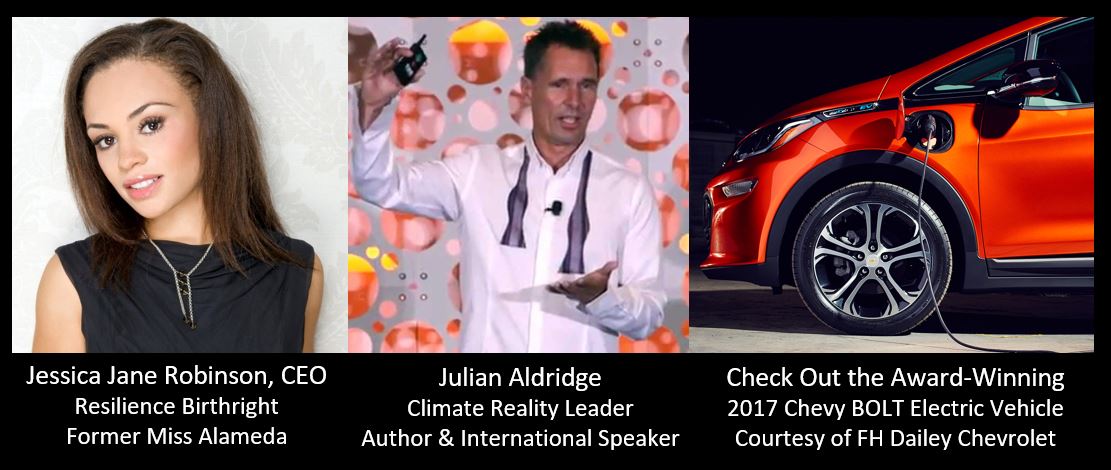 Come learn the latest facts and solutions about the climate crisis and what you can do right now to take action and be part of the solution. Featuring leading Bay Area speakers answering your questions on sustainable and healthy lifestyles, solar energy for your home and business, and why electric vehicles are better for the planet and your pocketbook.
COME CHECK OUT the brand new 2017 Chevrolet BOLT EV, a new battery electric car with 238 miles of range. Winner of the 2017 North American MotorTrend Car of the Year Award.
Agenda
1:00 Welcome Jessica Jane Robinson, CEO & Founder, Resilience Birthright and Former Miss Alameda
1:15 Keynote "An Inconvenient Conversation: The Climate Crisis and Bending the Course of History" Julian Aldridge, Climate Reality Leader, Author and International Speaker
2:00 Networking Break
2:15 Panel Discussion: "Be the Change: Sustainable Solutions in your home and business" There are literally hundreds of actions that Alameda residents can take to be part of the solution to the climate crisis AND which can enhance the quality of their health, save money and improve their lives. Come listen to local experts share their ideas and techniques.
3:00 Networking Break
3:15 Panel Discussion: "Be the Change: Using Renewable Energy and Electric Vehicles" How to stop using dirty fossil fuels for powering our buildings and vehicles. Come learn the latest insights on going solar and on driving an electric vehicle. You may be surprised how affordable and fun these options now are.
Dale Miller, President, Golden Gate Electric Vehicle Association,

a non-profit that promotes electric vehicles of all types. He drives an electric car and lives in an all-electric house with solar on the roof.

Kevin Good, CEO, Sun's Free Solar (Alameda CA)
Jessica Bradish, Climate Reality Leader and solar energy specialist
3:45 Closing Remarks: "The future of sustainability and climate solutions in Alameda" Trish Spencer, Mayor of Alameda
4:00 Session End