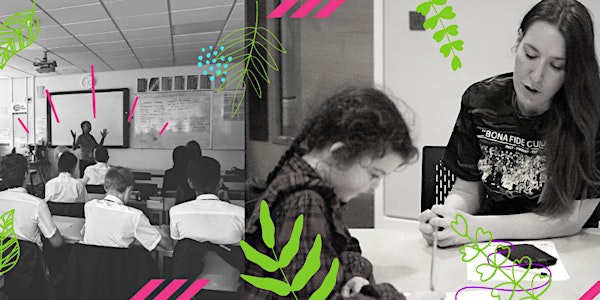 Climate Poetry Workshop For Kids! [Leeds]
Join us with the kids for these climate poetry workshops!
When and where
Location
Leeds City Museum Millennium Square Leeds LS2 8BH United Kingdom
About this event
Join us with the kids for these climate poetry workshops! 
Supported by Leeds Inspired and hosted at The Leeds City Museum, these workshops have been developed for key stage one and two children to help them learn about climate change and use creative writing to process and respond what they learn.
The workshop will start with a brief age appropriate introduction to climate change drawing upon child friendly stories and poetry.
Followed by a series of short exercises where children will learn the building blocks of poetry and creative writing.
Each child will have the opportunity to create a poem and there will be space for them to share it if they feel comfortable.
The goal of this workshop is that the children leave feeling more informed about climate change and more empowered to use and express their voice in creative ways. But most importantly we want to the children to have fun!
We will capture the thoughts and feelings expressed on the day by taking photos of the work created and recording a podcast.
Only where full permission has been given by the accompanying adult.
Workshop Breakdown
0-15 Minutes Get Settled In
The session will start with simple warm up exercised to help the children and guardians feel comfortable and relaxed.
15-25 Minutes Climate Change Overview
Sarah will deliver a brief and age appropriate overview on climate change using child friendly materials such as stories, poems and prompt cards.
25-40 Minutes Let It All Out – Exercise One
The children will share their initial thoughts, ideas, feelings and words using the medium they choose. There will be post it notes, drawing materials, pens, paper and the option to speak their thoughts out loud. This is an adaption to a freewrite using a multimedia approach.
40-55 Minutes - Exercise Two
Denetta will begin to work with the children to develop creative writing building blocks. She will provide worksheets and instruction to children depending on their age/writing ability. (There will be worksheets/activities available for different ages and abilities)
55-1.05 Break
Brief toilet and stretch break.
This time will also be used if children have individual questions or want to share their work with the facilitators.
1.05-1.20 Exercise Three
At this stage the children will begin to form their creative responses either in written or spoken word (younger children may wish to dictate or draw their poetry – Older children will get guidance on forming their poetry).
1.20-1.45 Exercise Four/Activity
Whilst the older children or those more experienced with poetry begin to pull together their poem with Denetta, the younger children will be guided by Sarah to discuss the words, ideas and thoughts they came up with.
Any written or visual responses will be collected. Sarah will also use this time to document the session photographically or audibly. (Only where permission granted by the guardian)
1.45 - 2.00 Express Yourself
Space will be held at the end of the workshop for any child who would like to share their words, thoughts and ideas including reading their poetry or saying how they feel.
Throughout the workshop all ages, abilities and comfort levels will be considered and catered for. Some parts of the workshop will be delivered to the group as a whole, whilst at other times, the children will break into smaller groups. Materials have been developed for different ability levels .
Important notes
*Make a Day Of It
The workshops are being held at The Leeds City Museum. We chose this location as it is central and accessible for people from all over the city. We know that lots of parents attend the City Museum during the school holidays so we have chosen 1pm so that parents can tag the workshop onto an existing city museum visit for a full fun day out with the kids!
* Accessibility
The City Museum has an accessibility policy and information about accessibility for visitors here. If you or your child have specific needs which need to be accommodated, please don't hesitate to contact us here.
*Parent/Guardian required
Whilst this workshop is held in the school holidays, we do require a guardian present with each child. If you're a guardian of an older child, you can observe or participate. Parents of younger children are welcomed and encouraged to participate so their child can get the most from the session.
*Documenting/Podcast
One of the goals of our organisation is to document and record the thoughts, feelings and experiences of people in responses to the world around them. Therefore we like to document our workshops and events with photography and audio. We will be taking pictures throughout the session. However, full permission will be granted before we do and it is completely optional. The general photography from the sessions will not usually include faces.
*Age, ability and comfort level
Care has been taken to ensure that the content including the information we share and the exercises we deliver are age and ability appropriate. We have developed materials which can be used simultaneously and we will sometimes break into smaller groups to ensure that all children are getting appropriate supervision.
If you have any questions, please get in touch!