Join us to envision climate justice for our agricultural community! ¡Únete para imaginar la justicia climática en nuestra comunidad !
About this event
The bilingual (Spanish/English) Climate of Hope forum will shed light on how people in the Pajaro Valley and beyond are responding to the climate emergency by organizing for innovative and transformative solutions. In the forum we will use an equity lens to cover intersecting topics such as transportation, building electrification, regenerative agriculture, public health, and more.
*********************************************************************************************El foro bilingue Clima de Esperanza mostrará cómo la gente del Valle del Pájaro y de otros lugares están respondiendo a la emergencia climática con la organización de soluciones innovadoras y transformativas. En el foro utilizaremos una lente de equidad para cubrir temas que se entrecruzan como el transporte, la electrificación de edificios, la agricultura regenerativa, la salud pública y más.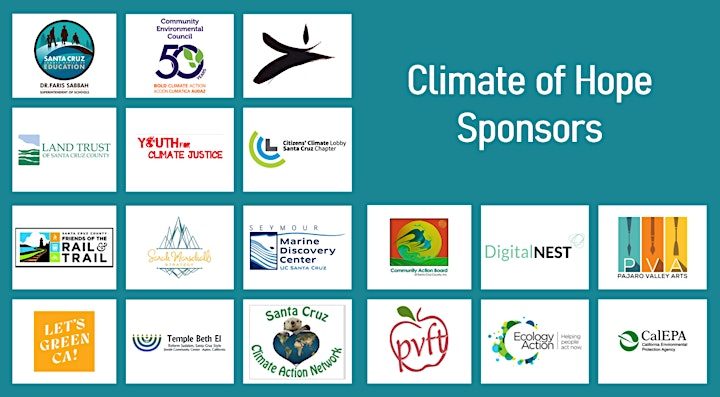 *******Additional Sponsors below- Otros patrocinadores abajo*******
Speakers will explore how present and historical oppressions have led to the climate crisis and how we can use the climate crisis as a unique opportunity to rebuild resilient communities and work for social and environmental justice.
The audience will interact through polls, chat, resource-sharing, and organized watch parties
We invite you to support open access to this event as you register by making a secure donation.
Suggested gift range: $15-100.
Together we can begin to redistribute wealth and invest in the people and communities that are presently and historically impacted by social and economic oppression.
*********************************************************************************************
Los ponentes explorarán cómo la opresión actual e histórica ha conducido a la crisis climática y cómo podemos utilizar la crisis climática como una oportunidad única para reconstruir comunidades resistentes y trabajar por la justicia social y medioambiental.
El público interactúa a través de encuestas, chats, intercambio de recursos y fiestas de presentación organizadas.
Le invitamos a que apoye el acceso abierto a este evento al inscribirse haciendo una donación segura.
Donación sugerida: $15-100 dólares.
Juntos podemos empezar a redistribuir la riqueza e invertir en las personas y comunidades que están actual e históricamente afectadas por la opresión social y económica.
Additional sponsors
Alain Desouches
Bob and Michele Kibrick
Donna Murphy and Mark Mesiti-Miller
Karen Groppi
Laura Solorio
Neumeier Taylor Foundation Fund
Peggy Flynn
Sarah Hulick
The Ahisma Fund
Thirty Petals Fund