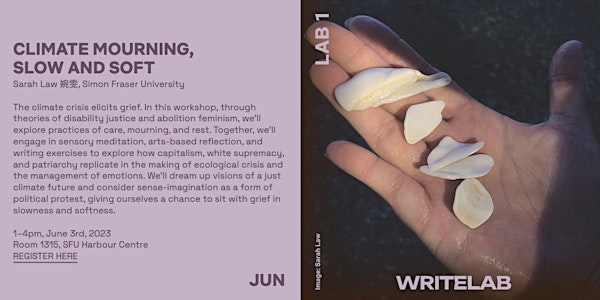 Climate Mourning, Slow and Soft
In this workshop, through theories of disability justice and abolition feminism, we'll explore practices of care, mourning, and rest.
Date and time
Saturday, June 3 · 1 - 4pm PDT
Location
Room 1315, SFU Harbour Centre 555 West Hastings Street Vancouver, BC V6B 4N6 Canada
About this event
The climate crisis elicits grief. In this workshop, Sarah Law 婉雯 will lead us through theories of disability justice and abolition feminism to explore practices of care, mourning, and rest. Together, we'll engage in sensory meditation, arts-based reflection, and writing exercises to explore how capitalism, white supremacy, and patriarchy replicate in the making of ecological crisis and the management of emotions. We'll dream up visions of a just climate future and consider sense-imagination as a form of political protest, giving ourselves a chance to sit with grief in slowness and softness.
About Doing STS
Doing STS is a methods lab that works across feminist science and technology studies and affect studies through public workshops, lectures, reading and writing groups, and experimental publications. We stage accessible and collaborative opportunities for play and learning with STS and affect via ordinary and DIY practice. Through zinemaking, textile and papercrafting, fermenting, composting, and other modes of making, we "craft with matter"1 to materialize alternative futures. We actively develop methods of care and anticolonial science and tech literacies with an emphasis on how emergent global complexities are made and experienced in small, local practices that include messiness, hunches, and mistakes.
Become a Member
While anyone can attend our events, we are funded by our members. Support us with a small one-time or reccurring membership fee. Members are welcome to join in on planning, give a workshop or public lecture, and can vote on future intiatives at our annual meeting. Fees are not considered a charitable donation and we are unable to issue tax reciepts.
Sarah Law 婉雯
Sarah Law is a graduate student in sociology at Simon Fraser University. She is a climate justice organizer and facilitator. Her undergraduate honours thesis explored climate action, ecological grief, and the politics of mourning. She is interested in eco grief, care practices, late capitalist affects, and worldmaking and knowledge mobilization beyond neoliberalism. Alongside her master's thesis, Sarah's current projects include Holding Climate Emotions, a climate justice conference exploring imagination as protest amidst climate grief through youth activist-led workshops, research presentations, and dialogue.
WriteLab
What can writing do? WriteLab approaches theory writing after Lauren Berlant and Katie Stewart's "hundreds" and Joe Dumit's "implosion." Looking to compositional methods across STS and affect studies, we explore how everyday objects, happenings, and practices texture theory and how theory textures life. We experiment with writing alongside what's taking shape or being assembled, staying stuck or fading into the background, to presence atmospheres of indeterminacy and relationships that matter.