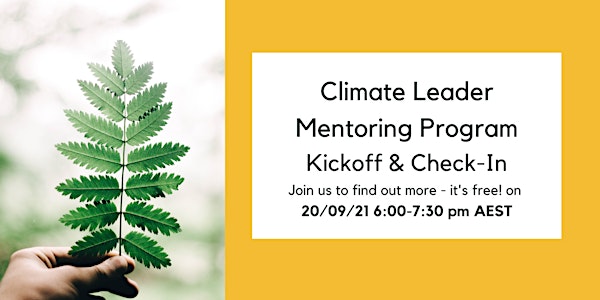 Climate Leader Mentoring Program Kickoff & Check-In
Climate Leader Mentoring Program participants check in - and anybody interested in joining as mentor or mentee can check the Program out!
About this event
If you are leading a climate project that is proving to be a bit difficult, if you are stuck or if it is starting to be too much: consider getting support tailored to your specific situation through our Climate Leader Mentoring Program, free thanks to our volunteers!
The Climate Leader Mentoring Program is a 3-month journey, in which you regularly work with a mentor at a mutually agreed time to move towards the goals you define at the beginning. You might start with our self-assessment to get a comprehensive view of your project's situation and then focus on what would make the biggest difference given where you are right now. We support you with monthly Check-Ins to enrich your experience and finish with our Zoom conference spotlighting the participating climate projects.
We're inviting you to this Check-In to "test-drive" what we are offering - the current cohort will share what they are accomplishing out of being mentored and you can find out if the program's structure suits your needs.
Please don't hesitate to join us if this speaks to you: we welcome everybody, regardless of your level of experience, or whether your project is just starting out or already well underway - we just want to give climate projects a leg up BECAUSE IT'S URGENT!
Not sure if you want to be mentored or rather contribute as a mentor yourself? Join us and check out if our program speaks to you!