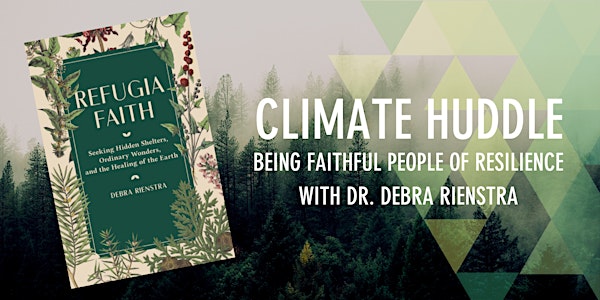 Climate Huddle: Being Faithful People of Resilience
The Climate Witness Project is excited to host Dr. Debra Rienstra for a discussion of her new book!
About this event
1 hour 30 minutes

Mobile eTicket
The Climate Witness Project is excited to host Professor Debra Rienstra on January 12, 2023 at 8pm ET for a discussion of her new book Refugia Faith: Seeking Hidden Shelters, Ordinary Wonders, and the Healing of the Earth.
"Refugia" is a biological term for places of shelter where life endures in times of crisis. In Refugia Faith, Debra Rienstra considers how Christians can respond to this time of climate crisis and upheaval by becoming people of refugia. How can we adapt our faith and practice to find and nurture refugia in the earth, our human cultural systems, and our spiritual lives? Participants will explore the seven transformations toward refugia faith, reflecting on scripture and exploring practical examples of refugia work.
Debra Rienstra is professor of English at Calvin University, and the author of four books—on motherhood, spirituality, worship, and ecotheology/climate change. Rienstra is also the host of the Refugia Podcast and writes bi-weekly for The Twelve, a blog connected with The Reformed Journal.
Before the Event: