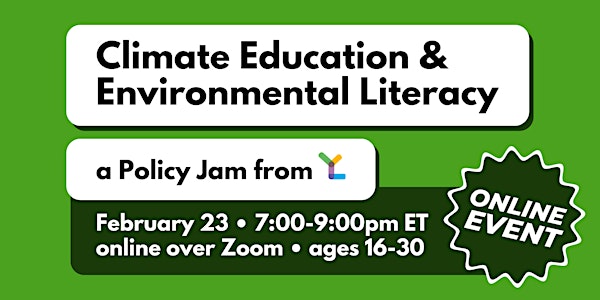 Climate Education & Environmental Literacy: Policy Jam by Youth Climate Lab
Join us for a virtual collaborative space to explore and share ideas on the future of environmental & climate literacy for youth in Canada.
When and where
Date and time
Thu, Feb 23, 2023 4:00 PM - 6:00 PM PST
About this event
*français à suivre*
—
This event is open to youth ages 16 – 30
—
We would like to acknowledge that while this event will be taking place virtually. Youth Climate Lab (YCL) is headquartered on unceded, unsurrendered Algonquin Anishnabeg Territory (Ottawa) and participants will be joining from Indigenous lands reaching from the Atlantic to the Pacific to the Arctic Oceans.
We recognize that climate change disproportionately affects Indigenous youth, and creating opportunities for inclusive and intersectional action is critically important.
—
About the Climate Education & Environmental Literacy Policy Jam
Youth feel burdened by the complex challenges across local, national, and international scales. Solutions often seem all at once available, but disconnected from the priorities of decision-makers.
What does it look like to bring a group of youth together to engage on the futures of climate education and environmental literacy? Together, we will:
Meet and learn from a network of young people from coast-to-coast-to-coast;
Learn about ways we can have an impact on environmental literacy in Canada; and
Participate in a collaborative design-thinking process, using YCL's Policy Idea Canvas, to problem-frame, ideate and co-create policy recommendations with other youth.
What will the outcome be? You will leave, having:
Sharpened your communication, collaboration, and critical thinking skills;
Joined a community of individuals committed to a new future for environmental literacy in Canada; and
Shared your ideas, which will then be summarized and communicated to government by YCL.
Excited to Jam with you!
The Policy Jam is a proven model of youth engagement that has been tested at various national and international-level policy processes, including the G7 Environment Ministers Meeting, national consultation for Canada's 2030 Agenda Strategy, and the UN Youth Climate Summit.
_________________________________________________________________________________________
Éducation climatique et littératie environnementale : atelier sur la politique par Youth Climate Lab
Événement en ligne • 23 février • de 16 à 30 ans
Rejoignez-nous pour un espace collaboratif virtuel pour explorer et partager des idées sur l'avenir de la littératie environnementale et climatique pour les jeunes au Canada.
—
Cet événement est ouvert aux jeunes de 16 à 30 ans
—
Nous tenons à souligner que cet événement se déroulera virtuellement. Le Youth Climate Lab (YCL) a son siège social sur le territoire algonquin Anishnabeg (Ottawa) non abandonné et non cédé et les participants se joindront à partir de terres autochtones s'étendant de l'Atlantique au Pacifique en passant par les océans Arctiques.
Nous reconnaissons que le changement climatique affecte de manière disproportionnée les jeunes autochtones, et la création d'opportunités d'action inclusive et intersectionnelle est d'une importance cruciale.
—
À propos de l'atelier sur la politique d'éducation climatique et d'éducation à environnementale
Les jeunes se sentent accablés par les défis complexes à l'échelle locale, nationale et internationale. Les solutions semblent souvent tout à coup disponibles, mais déconnectées des priorités des décideurs.
À quoi cela ressemble-t-il de réunir un groupe de jeunes pour s'engager sur l'avenir de l'éducation climatique et de la littératie environnementale ? Ensemble, nous allons :
Rencontrez et apprenez d'un réseau de jeunes d'un océan à l'autre ;
Découvrez comment nous pouvons avoir un impact sur la littératie environnementale au Canada ; et
Participez à un processus collaboratif de réflexion conceptuelle, en utilisant le canevas d'idées politiques de YCL, pour définir les problèmes, imaginer et cocréer des recommandations politiques avec d'autres jeunes.
Quel sera le résultat ? Vous partirez en ayant :
aiguisé vos compétences de communication, de collaboration et de pensée critique ;
rejoint une communauté de personnes engagées dans un nouvel avenir pour la littératie environnementale au Canada ; et
partagé vos idées, qui seront ensuite résumées et communiquées au gouvernement par YCL.
Ravi d'échanger avec vous !
L'atelier sur la politique représentent un modèle éprouvé d'engagement des jeunes qui a été testé dans divers processus politiques nationaux et internationaux, y compris la réunion des ministres de l'Environnement du G7, la consultation nationale pour la stratégie du Programme 2030 du Canada et le Sommet des jeunes sur le climat des Nations Unies.