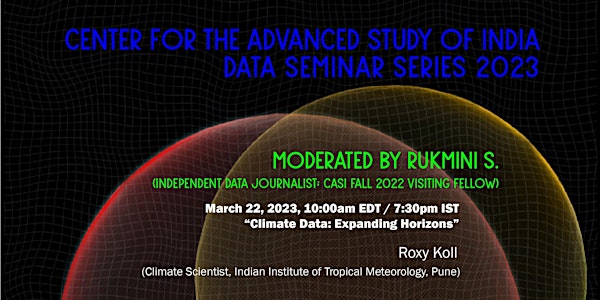 Climate Data: Expanding Horizons
Climate Data: Expanding Horizons (CASI Data Seminar Series 2023)
By Center for the Advanced Study of India (CASI) at the University of Pennsylvania
When and where
Date and time
Wednesday, March 22 · 7 - 8am PDT
About this event
March 22, 2023 — 10:00am EDT | 7:30pm IST via Zoom
The CASI-India Data Seminars Series features Rukmini S. (Independent Data Journalist; CASI Fall 2022 Visiting Fellow) in conversation with various data experts.
"Climate Data: Expanding Horizons"
Guest: Roxy Koll is a Climate Scientist at the Indian Institute of Tropical Meteorology, Pune.
Moderator: Rukmini S. (CASI Fall 2022 Visiting Fellow) is an Independent Data Journalist based in Chennai, India. Her work focuses on inequality, gender, caste, and politics. Rukmini was previously National Data Editor of The Hindu and now writes independently for Indian and international publications. She also hosted a pandemic podcast, The Moving Curve, which won an Emergent Ventures COVID-19 India Prize in 2020. She is the author of the 2021 bestselling book, Whole Numbers & Half Truths: What Data Can and Cannot Tell Us About Modern India.
Full 2023 Data Seminar Series schedule below: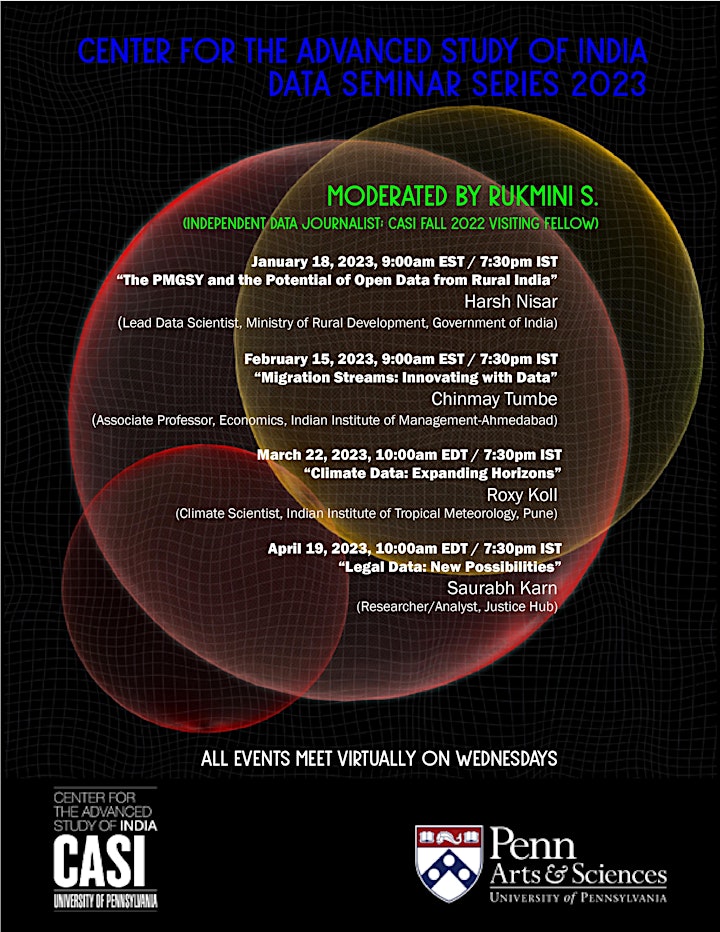 About the organizer
Founded in 1992, the Center for the Advanced Study of India at the University of Pennsylvania is the first research institution in the United States dedicated to the study of contemporary India. A national resource, it fills an urgent need for objective knowledge of India's politics and society, rapidly changing economy, and transformation as both an ancient civilization and major contemporary power.
The Center's key goals are to nurture a new generation of scholars across disciplines and to provide a forum for dialogue among the academic, business, and foreign policy communities.
Through its collaborative research initiatives, seminars, conferences, publications, and outreach, the Center provides in-depth, policy-relevant analysis of the most pressing issues facing India and the Indo-US relationship today.