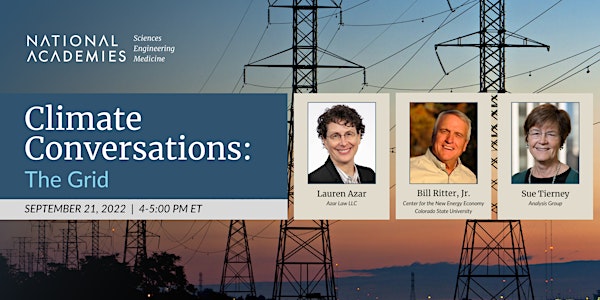 Climate Conversations: The Grid
Join us for a conversation about how to adapt the U.S. electric grid to meet the needs of a decarbonized and electrified country.
About this event
As renewable energy continues to grow, and as vehicles and buildings are increasingly powered by electricity rather than fuels, the U.S. electric grid will need to adapt. Sue Tierney (Analysis Group) moderated a conversation between Bill Ritter, Jr. (Center for the New Energy Economy at Colorado State University) and Lauren Azar (Azar Law LLC) about how to navigate the challenges facing the grid, such that it can continue to provide power and facilitate the new energy economy. Challenges discussed included transmission, storage, land use and siting, and interconnections. The conversation also touched on how the Inflation Reduction Act will impact how the nation responds to these challenges.
Climate Conversations: Pathways to Action is a monthly webinar series from the National Academies of Sciences, Engineering, and Medicine that aims to convene high-level, cross-cutting, nonpartisan conversations about issues relevant to national policy action on climate change.
Be sure to also register for our expert sessions on Engaging the Public with Large-Scale Infrastructure on September 30 and October 3.
Participant Bios
Lauren Azar is an independent electric industry attorney and advisor who has worked at the federal government level as Senior Advisor to the Secretary of the Department of Energy, at the state government level as Commissioner at the Public Service Commission of Wisconsin, and in the private sector as an attorney representing utilities, utility customers, and NGOs.
Bill Ritter, Jr. is the founder and director of the Center for the New Energy Economy at Colorado State University, which works with state and federal policymakers to create clean energy policy throughout the country. He was elected Colorado's 41st Governor in 2006, and during his four-year term, established Colorado as a national and international leader in clean energy by building a New Energy Economy. Governor Ritter authored a book that was published in 2016 entitled, Powering Forward – What Everyone Should Know About America's Energy Revolution.
Susan Tierney, a Senior Advisor at Analysis Group, is an expert on energy economics, regulation, and policy, particularly in the electric and gas industries. She consults to businesses, government agencies, foundations, tribes, environmental groups, and other organizations on energy markets, economic and environmental regulation and strategy, and climate-related energy policies. Previously, she served as the Assistant Secretary for Policy at the U.S. Department of Energy, as well as co-authored the energy chapter of the National Climate Assessment.
Disclaimer: The views expressed in the conversation are those of the participants and do not necessarily represent the National Academies of Sciences, Engineering, and Medicine.
Disclaimer:
This registration information is being collected via Eventbrite. Eventbrite is not affiliated in any way with, or endorsed by, the National Academies of Sciences, Engineering, and Medicine, and your submission via the Eventbrite website is subject to Eventbrite's privacy and terms of use.