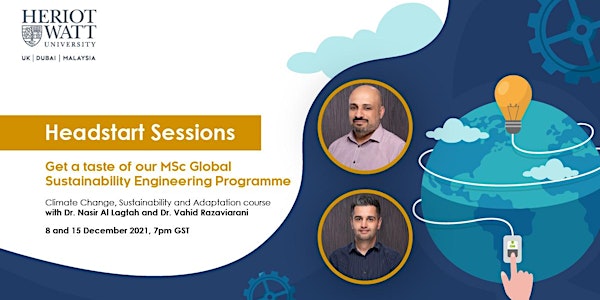 Climate Change, Sustainability and Adaptation Headstart Sessions
Get a Headstart To Your Postgraduate Studies
About this event
Our Climate Change, Sustainability and Adaptation Headstart Sessions are open to anyone who would like to pursue postgraduate studies in MSc Global Sustainability Engineering. This is an opportunity to explore our Postgraduate offering to help you make a more informed decision on what to study.
Experience our Engineering programmes before you enrol
Our Headstart Sessions are a great way to find out more about your programme of choice and an introduction to postgraduate study where you will be informed about the options available to you, to help you to make educational and career decisions.
Get involved in practical sessions
Some of the lessons will include hands-on experience and the chance to participate in practical sessions giving prospective students an insight into the engineering programmes offered at Heriot-Watt University.
Meet our dedicated teachers
You will have the opportunity to meet your teachers for your programme of study and you will receive valuable information throughout the course.
Certificates of participation will be awarded to those who complete assignments.
Our Headstart Sessions will cover the following:
MSc Global Sustainability Engineering
Climate Change, Sustainability and Adaptation Course
Topic 1: Sustainability – Date: 8 December 2021 Time: 7:00pm - 8:00pm
Organizer of Climate Change, Sustainability and Adaptation Headstart Sessions
A distinctive institution
With a history dating back to 1821, Heriot-Watt University has established a reputation for world-class teaching and practical, leading-edge research, which has made us one of the top UK universities for business and industry.
We're a vibrant, forward-looking university, well known for the quality of our degrees with employers actively seeking out our graduates.
Heriot-Watt is also Scotland's most international university with an unsurpassed international in-country presence. We deliver degree programmes to 31,000 students globally, have campuses in Dubai and Malaysia and boast the largest international student cohort in Scotland.