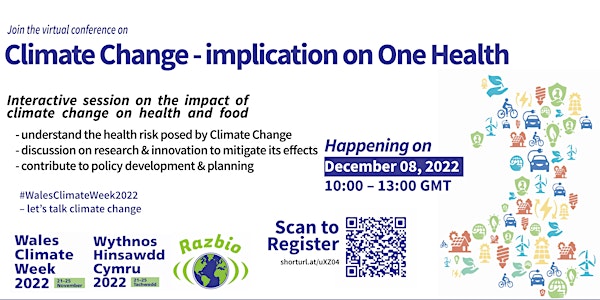 Climate Change - Implications on One Health
Interactive event to learn & discus the impact of climate chnage and nature emergenciess on health, food security and mitigating strtaegies.
About this event
One Health refers to integrated approaches towards human, animal, and plant health. The increasing temperatures pose a serious risk to the health of humans, animals, and plants through increased distribution of pests and diseases. There are several reports of insect pests and diseases establishment in non-native regions and new geographical locations.
This event will discuss the potential risks associated with the increased distribution and establishment of the pests and diseases. The panel discussion will focus on innovative research and strategies to mitigate the climate change impact with reference to One Health. The event will cater for a diverse audience and will aim at increasing awareness of individuals and groups about implication of climate change on One Health. The key findings of the discussion will be shared with relevant stakeholders to help develop mitigation strategies for monitoring and control of invasive pest and diseases.
The event will provide an opportunity for the public to
• Understand the health risks posed by climate change.
• What actions individuals can take to minimize the establishment on non-native pest and diseases?
• Learn about latest research and innovative approaches to mitigate the impact of climate change with reference to One Health
• Contribute to policy development and implementation strategies