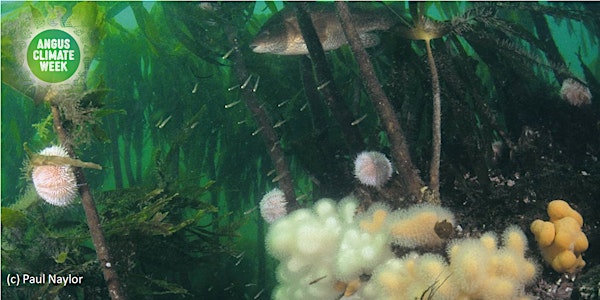 Climate Change and Marine Life
Take part in Angus Climate Week by joining this informative online talk about the marine environment
About this event
Join Elouise Cartner from Scottish Wildlife Trust Living Seas Project for a fascinating online talk to discover how our cherished marine life is affected by climate change and the vital role it plays in mitigating climate change impacts.
About the speaker, Elouise Cartner:
Elouise is a passionate marine biologist, working within the Scottish Wildlife Trust's Living Seas project as Public Engagement Officer. Having graduated with a First Class Master's degree in Zoology, Elouise spent years specialising in marine mammal behaviour and evolutionary studies. Some professional highlights include presenting her research at the UKIRSC Society of Marine Mammology conference and travelling the globe to carry out offshore cetacean surveys. Her greatest joy is applying this learning to connect others meaningfully with ocean wildlife in creative and informative ways, such as through snorkelling using the Trust's Snorkel Trail Network.
Scottish Wildlife Trust Living Seas Project:
The Living Seas project is working at both national and local levels to ensure effective marine management. Focusing upon both marine planning and community engagement, the Living Seas project works across a wide range of areas to promote the sustainable management of our seas, recognizing and rectifying the impact human activity has had in order to maintain a healthy and productive marine environment. The Living Seas project also strives to connect the wider public with the marine environment in engaging and meaningful ways, making oceans more accessible and thereby encouraging more people to better value and protect Scotland's precious marine life.