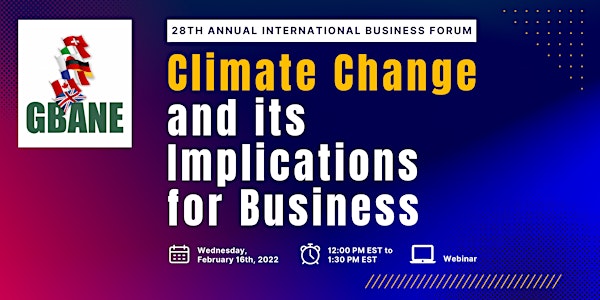 Climate Change and Its Implications for International Business
An economic update, a keynote and a panel discussion with business leaders on the implications of climate change and COP26.
About this event
This is our 28th Annual Business Forum!
This year's forum will provide a bird's eye view of the global climate change debate, including a review of the outcomes of COP26 and what this means for international companies.
Date: Wednesday, February 16, 2022
Time: 12:00pm to 1:30pm EST
Platform: Zoom Webinar
Audience: international business community
Agenda:
12:00pm-12:30pm EST:
Welcome
Economic Update
Dr. Michael Goodman, Senior Advisor to the Chancellor for Economic Development & Strategic Initiatives, Professor of Public Policy, UMass Dartmouth
Keynote "What Will It Take to Compete and Collaborate In a Climate Emergency. Lessons from COP26"
Rachel Kyte, Dean of The Fletcher School at Tufts University
12:30pm-1:30pm EST:
Panel discussion with
moderated by
The panel consists of executives who are well versed in the issues of climate change and sustainability and its implications for businesses following COP26.
Moderator & Speakers
Dr. Peter Abbott, OBE, British Consul General to New England
Dr. Peter Abbott has been a member of Her Majesty's Diplomatic Service for 15 years. Before becoming British Consul General to New England in 2020, he served as Counsellor at the British High Commission in Islamabad, Pakistan, with operational oversight of the largest mission in the UK's overseas diplomatic network.
Before joining the FCDO, Peter lived, studied and worked in the United States, including interning in the office of Dennis Hastert when he was Speaker of the US House of Representatives and working on Arianna Huffington's 2003 gubernatorial campaign in California.
Véronique Bourgier, Vice President Strategy & Marketing, Veolia North America
Veronique began her career with Veolia as a Technical Expert with the Corporate Technical and Performance department in France. Eight years ago, she moved to the USA and transitioned to Veolia Water Technologies, a subsidiary of Veolia, in a sales position as a Strategic Business Development Manager before becoming a Business Development Director responsible for Veolia's digital transformation and Chemicals P&L. More recently Veronique joined Veolia North America as VP Strategy & Marketing and was elected to the Board of the French-American Chamber of Commerce, New England (FACCNE) in January 2022. Veronique holds a Ph.D. in Process Engineering from École des Mines de Saint-Étienne.
Claire Dykta , Head of UK Strategy, National Grid
Claire Dykta is UK Head of Corporate Strategy for National Grid, one of the world's largest investor-owned energy companies. She has worked in a diverse range of regulatory, commercial and operational roles and has been at the sharp end of changes in the UK Power sector, including being responsible for optimizing the power grid for the first UK coal-free day. Claire is passionate about facilitating the transition to a decarbonised energy system through embracing innovative and disruptive technologies, championing the role of the consumer and promoting the importance of diversity and inclusion in the energy sector. She has been named in the @rise_utils list of the top 25 UK influencers in the energy industry, in the top 1000 @SustMeme global influencers on Climate & Energy and recognized in the 2020 HERoes women executives list.
Dr. Michael Goodman, Senior Advisor to the Chancellor for Economic Development & Strategic Initiatives, Professor of Public Policy, UMass Dartmouth
In August 2020 Dr. Goodman was appointed Acting Provost and Vice Chancellor for Academic Affairs by UMass System President Marty Meehan and served 18 months in that role. This followed six years of service as Executive Director of the Public Policy Center, two terms as Faculty Senate President, and six years as Chair of the Department of Public Policy. Professor Goodman joined the faculty at UMass Dartmouth in 2009 after serving for eight years as the Director of Economic and Public Policy Research at the UMass Donahue Institute. A leading analyst of the Massachusetts economy, he has authored or co-authored over fifty professional publications on a wide range of public policy issues including regional economic development and housing policy as well as demographic and other applied social science research topics. He has supported this research by generating over $6 million in external grant and contract funding from a diverse array of public and private sources.
Rachel Kyte, Dean of The Fletcher School, Tufts University
Rachel Kyte is the 14th dean of The Fletcher School at Tufts University. A 2002 graduate of Fletcher's Global Master of Arts Program (GMAP) and a professor of practice at the school since 2012, Kyte is the first woman to lead the nation's oldest graduate-only school of international affairs, which attracts students from all corners of the globe and at all stages of their careers. Prior to joining Fletcher, Kyte served as special representative of the UN secretary-general and chief executive officer of Sustainable Energy for All (SEforALL). She previously was the World Bank Group vice president and special envoy for climate change, leading the run-up to the Paris Agreement. She was also vice president at the International Finance Corporation responsible for ESG risk and business advisory services.
Nathalie Wallace, Global Head of Sustainable Investing, Natixis Investment Managers
Nathalie oversees the firm's ambitious sustainable investment strategic goals and is responsible for driving Natixis Investment Managers' sustainable investment commitments across its distribution network, its affiliate managers and as part of industry-wide initiatives. In that role, she is charged with strengthening the firm's sustainable stewardship, driving the research agenda and investment capabilities, developing the range of innovative sustainable solutions for Natixis IM's clients worldwide and supporting them on their journey from early state ESG integration, through climate, to impact investing.
Co-organized by
Urszula Wojciechowska (GBANE)
French-American Chamber of Commerce New England (FACCNE)
German-American Business Council Boston (GABC)
About GBANE
The Global Business Alliance of New England (GBANE) is an initiative of international business organizations and agencies working to promote business and trade in New England. GBANE has been holding its Annual International Business Forum & Networking Evening since 1996. During the COVID pandemic, the event has been held virtually.

Kenneth J. Vacovec, the founding partner of the firm, practices in all areas of tax law including tax planning for businesses and individuals, estate planning, representation before Internal Revenue Service and state tax authorities, international tax planning for individuals and businesses, international estate planning, and tax compliance.