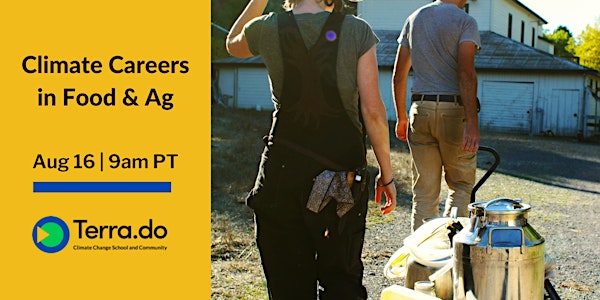 Climate Careers with Terra.do: Food & Farming
Free webinar to learn about climate careers in food and agriculture
About this event
**This event is postponed until future notice; apologies for any inconveniences caused!**
Want a career focused on food & agriculture? Curious about working and living on a regenerative farm? Are you passionate about food? Eager to learn more about the intersection of farming and climate change?
If so, join us for a conversation with Mitch Rubin, Semra Fetahovic, and Ash Glover-Ganapathiraju, all working at the intersection of food & farming. During the interactive hour, each panelist will share what they're doing at the intersection of food, farming and climate change today.
Come with questions, or send them in advance to Amy at Amy[at]Terra[dot]do.
Our Wonderful Participants:
Mitch Rubin: Mitch leads Elemental Excelerator's food, agriculture, and nature-based solutions portfolio. He helps Elemental's portfolio companies co-design projects and connect with high value partners, spearheads diligence and recruitment for the sector, and engages corporates interested in climate tech. Prior to Elemental Excelerator, Mitch was helping to launch a fund focused on building climate-resilient communities in North America. He previously spent over three years at Chobani, where he managed the Chobani Incubator and Food Tech Residency programs to support food and ag entrepreneurs. Before Chobani, Mitch spent two years in Detroit as a Venture for America Fellow. Mitch holds an MS in Sustainability Management from Columbia University, and a BA in Political Science from Duke University. | LinkedIn
Semra Fetahovic: Semra has been involved in organic and sustainable agriculture for the past 7 years - professionally, experientially, and academically. In 2015 Semra apprenticed at Fair Share Farm in Kearney, Missouri, parallel to completing the Growing Growers program through K-State Extension. Following this experience, she was able to travel and work on farms outside of the Midwest. In 2016, she switched gears and started a 2-year MSc program in Organic Agriculture & Food Systems at the University of Hohenheim in Germany; spending the first year in Hohenheim, and the second at BOKU University in Vienna, Austria. For the past three years, Semra has been the Juniper Gardens Training Farm Program Manager at Cultivate KC. In this role she co-manages the New Roots for Refugees program, a partnership between Catholic Charities of Northeast Kansas and Cultivate KC. Semra recently moved onto a 10-acre collectively managed urban homestead in KCK, so when she's not working with farmers she's probably farming anyway. | LinkedIn
Ash Glover-Ganapathiraju: Ash is the founder of Ojaswe Co, a regenerative food company on a mission to build climate-resilient food systems.In her 15-year career, Ash has worked in a variety of roles, most recently launching consumer products for recognizable brands such as Nestle and Starbucks. Driven by an interest in the Future of Food, Ash has spent the last year deepening her learning about food systems, upcycled food and regenerative agriculture. Ojaswe Co. is founded on the thesis that food is the most accessible way for everyone to engage in climate action, from exactly where they are. Our mission is to build a better food system: one that is climate resilient, includes and engages community partners, respects the earth we live on, and provides a way for people to truly connect with their food. Our first product (launching Fall 2022) is an approachable, easy to use crepe mix, made with regeneratively grown ingredients, inspired by Ash's Indian roots. | LinkedIn