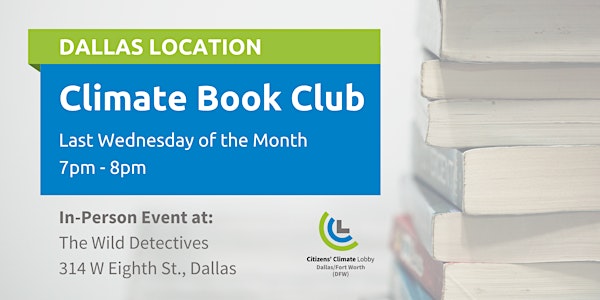 Climate Book Club - Dallas
Join in reading books about economic and environmental impacts of climate change and the potential solutions for solving the climate crisis!
When and where
Location
The Wild Detectives 314 West Eighth Street Dallas, TX 75208
About this event
The goal of Climate Book Club is to build literacy around the environment and climate change to help you continue the conversation with your community. No expertise required. We will be reading and learning together!
Climate book club is open to the public! You do not need to be a member of CCL to attend.
This event is hosted by Citizens' Climate Lobby Dallas-Fort Worth Metroplex Chapter.
Check out this feature about our book club on Greensource DFW
Update for 2022:
We now have #ClimateBookClub in Dallas AND Fort Worth! Both clubs will be reading the same book each month but we meet on different days. Our book club is back IN-PERSON outdoors. Please respect the masking rules defined by each venue.
Dallas Climate Book Club
When: Wednesday, January 26th at 7:00 PM
Where: The Wild Detectives, 314 W Eighth St., Dallas
Order Books: Wild Detectives in Dallas
Fort Worth Climate Book Club
--> RSVP HERE for Fort Worth event
When: Sunday, January 30th at 4:00PM
Where: Zonk Burger, 2919 Race Street, Fort Worth
Order Books: Monkey and Dog Books in Fort Worth OR The Dock Bookshop
Ordering Books:
Our reading list is compiled with input from attendees at January 2022 meeting. Keep scrolling for the complete reading list with links to local bookshops.
Support our friends and local bookshops with your orders:
Wild Detectives in Dallas
Monkey and Dog Books in Fort Worth
The Dock Bookshop in Fort Worth
Who is Citizens' Climate?
Citizens' Climate Lobby (CCL) is a non-profit, nonpartisan, grassroots advocacy organization focused on national policies to address climate change. We are volunteer-based and CCL DFW is the Dallas/Fort Worth Metroplex Chapter.
READING LIST 2022:
January 2022:
Saving Us: A Climate Scientist's Case for Hope and Healing in a Divided World by Katharine Hayhoe
February2022:
How to Avoid a Climate Disaster: the Solutions We Have and the Breakthroughs We Need by Bill Gates
March 2022:
Termination Shock by Neal Stephenson
April 2022:
Under a White Sky: the Nature of the Future by Elizabeth Kolbert
May 2022:
How to Prepare for Climate Change: a Practical Guide to Surviving the Chaos by David Pogue
June 2022:
Angry Weather: Heat Waves, Floods, Storms, and the New Science of Climate Change by Friederike Otto
July 2022:
A Bigger Picture: My Fight to Bring a New African Voice to the Climate Crisis by Vanessa Nakate
August 2022:
New York 2104 by Kim Stanley Robinson
September 2022:
There Is No Planet B by Mike Berners-Lee
October2022:
The Sea Is Rising and So Are We: a Climate Justice Handbook by Cynthia Kaufman
November 2022:
The Untold Story of the World's Leading Environmental Institution, UNEP at Fifty by Maria Ivanova
December 2022:
Hope Matters: Why Changing the Way We Think Is Critical to Solving the Environmental Crisis by Elin Kelsey
Scroll to bottom for reading list from 2020 and 2021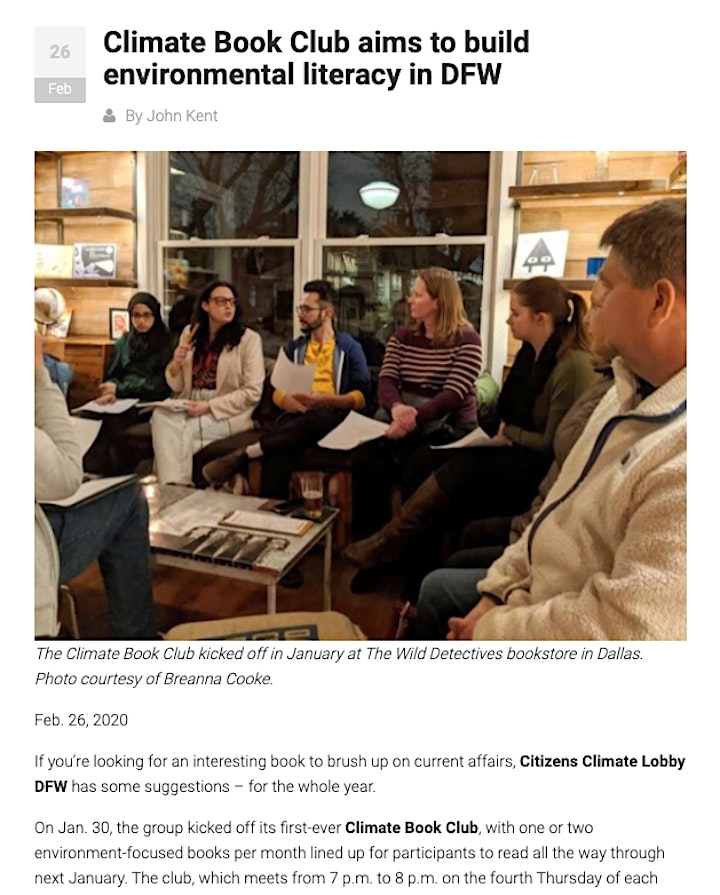 READ: Climate Book Club on Greensource DFW
"The Climate Book Club is an attempt to create a warm and non-intimidating environment, open to the general public, where we draw upon the collective knowledge of the group to work through some of these questions together. [Our books] are related to the political, economic and environmental impacts of climate change, and the potential solutions for this problem."
READING LIST 2021:
January 2021:
This Radical Land: A Natural History of American Dissent, Daegan Miller, 2018
February 2021:
Our February meeting was devoted to giving participants the chance to voice their favorite selections for the final 2021 reading list.
MARCH 2021:
The Good Ancestor: A Radical Prescription for Long-Term Thinking by Roman Krznaric (2020)
APRIL 2021:
The Righteous Mind: Why Good People Are Divided by Politics and Religion by Jonathan Haidt (2013)
MAY 2021:
Climate Change from the Streets: How Conflict and Collaboration Strengthen the Environmental Justice Movement by Michael Mendez (2020)
JUNE 2021:
All Hell Breaking Loose: The Pentagon's Perspective on Climate Change by Michael T. Klare (2019)
JULY 2021:
All We Can Save: Truth, Courage, and Solutions for Climate Crisis by Ayana Johnson and Katherine Wilkinson (2020)
AUGUST 2021:
The Case for a Carbon Tax: Getting Past Our Hang-ups to Effective Climate Policy by Dr. Shi-Ling Hsu (2011)
SEPTEMBER 2021:
The Future Earth: A Radical Vision for What's Possible in the Age of Warming by Eric Holthaus (2020)
OCTOBER 2021:
In This Together: How Republicans, Democrats, Capitalists and Activists Are Uniting to Tackle Climate Change and More by Trammell S. Crow and Bill Shireman (2020)
NOVEMBER 2021:
The Ministry for the Future: A Novel by Kim Stanley Robinson (2020)
DECEMBER 2021:
Don't Even Think About It: Why Our Brains Are Wired to Ignore Climate Change by George Marshall (2015)
READING LIST 2020
February:
Storms of my Grandchildren, James Hansen, 2009
March:
On Fire:The Burning Case for a Green New Deal, Naomi Klein (2019)
April:
Climate of Hope, Michael Bloomberg and Carl Pope (2017)
No One is Too Small to Make a Difference, Greta Thunberg (2019)
May:
The American War, Omar Al Akkad, (2018)
June:
The Immense Journey: An Imaginative Naturalist Explores the Mysteries of Man and Nature, Loren Eisley, 1959
The Everglades: River of Grass, Marjory Stoneman Douglas,1947
July:
The Weather Makers: The History and Future Impact of Climate Change, Tim Flannery, 2005
August:
Merchants of Doubt, Naomi Oreskes and Erik M. Conway, 2010
September:
Earth Democracy: Justice, Sustainability and Peace, Vandana Shiva, 2015
October:
The Uninhabitable Earth: Life After Warming, David Wallace-Wells, 2019
November:
Fevered: Why a Hotter Planet Will Hurt our Heath-and How we Can Save Ourselves, Linda Marsa, 2013
December:
The Hillside (Warmer Collection), Jane Smiley, 2019