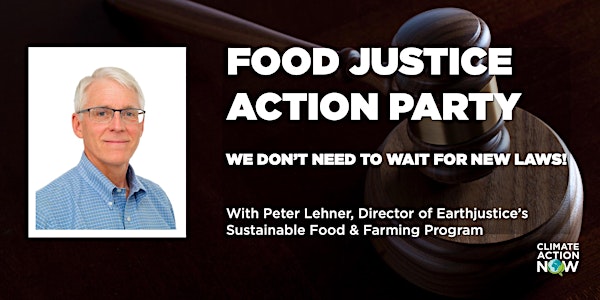 Climate Action Party: Food Justice with Peter Lehner of Earthjustice
Peter will spotlight ways climate activists can use current laws to advocate for food justice. We don't need to wait for new laws!
Refund Policy
Contact the organizer to request a refund.
Eventbrite's fee is nonrefundable.
About this event
Join us on Thursday, January 12 at 7 pm ET to learn how climate-concerned citizens can urge our government leaders to help accelerate the transition to a more just and sustainable food system. Featured guest Peter Lehner has been on the frontline of the legal battle for the Earth in a career that spans decades with New York State Attorney General Environmental Protection Bureau, NYC Environment Prosecution Unit, NRDC, and now Earthjustice.
Peter will spotlight opportunities for climate activists to advocate for policymakers to use the Clean Air Act, Clean Water Act, Farm Bill (both the current law and improvements we will seek in 2023), Inflation Reduction Act, and SEC regulations to drive even faster, systemic change in the ways we produce our food. We don't need to wait for new laws!
We'll then fire up the Climate Action Now app for our signature Action segment with the goal of breaking our previous Action Party record of 1,000 messages sent to politicians and regulators during the party.
It's going to be informative, fun, and meaningful. Don't miss it. Sign up now!
About Our Featured Guest
Peter Lehner (@p_lehner) directs Earthjustice's Sustainable Food & Farming Program, where he develops litigation, administrative, and legislative strategies to promote a more just and environmentally sound agricultural system and to reduce health, environmental, and climate harms from food production. Peter is a leading expert on the impact of agriculture on climate change and is the author of Farming for Our Future; the Science, Law, and Policy of Climate-Neutral Agriculture.
From 2007–2015, Peter was the executive director of the Natural Resources Defense Council (NRDC) and the NRDC Action Fund. Peter shaped NRDC's clean food program with food waste, antibiotic-free meat, regional food, and climate mitigation projects.
From 1999–2006, Peter served as chief of the Environmental Protection Bureau of the New York State Attorney General's office. His earlier career also includes serving as director of NRDC's clean water program and creating and leading the Environmental Prosecution Unit for NYC.
Peter holds an AB in philosophy and mathematics from Harvard College and is an honors graduate of Columbia University Law School. He is on the boards of the Rainforest Alliance and Environmental Advocates of New York and a member of the American College of Environmental Lawyers. He also helps manage two mid-sized farms and teaches a course on agriculture and environmental law at Columbia Law School. Peter has been honored with numerous awards by EPA and environmental groups.
About Our Moderator
Marianne Krasny, Ph.D., is the Director of Food Policy for Climate Action Now. She is a professor in Natural Resources and the Environment at Cornell University where she directs the Civic Ecology Lab. Her work with Climate Action Now focuses on food and farm policy, including reauthorization of the Farm Bill. Her latest book, In This Together: Connecting with your Community to Combat the Climate Crisis, will be out in March 2023.
About Our Action Parties
An Action Party is an online event that packs valuable information and concrete action into a 60-minute venue.
Each Action Party has an environment-related topic and a featured guest who is an expert in that topic. We begin with a 20-minute presentation by the featured guest, followed by 20 minutes of Q&A, and then 20 minutes of optional action-taking with the Climate Action Now app. The actions have been prepared in advance to help participants take the most impactful action in the shortest period of time. During the action segment, the party's moderator sets a goal for the number of actions to be taken and shows participants their progress towards that goal in real-time with an online, automated goal tracker. Participants can socialize during the action segment.
Action parties are free and open to all who seek a more just and sustainable world, but we welcome donations to help us continue our mission of creating a just and liveable planet for all.
How to Get the Climate Action Now App
If you want to participate in the action-taking segment, you can get the FREE Climate Action Now app by scanning the QR code below with your phone's camera OR by searching for "Climate Action Now" in your app store and downloading it to your phone. The app is currently available to users in the United States only.