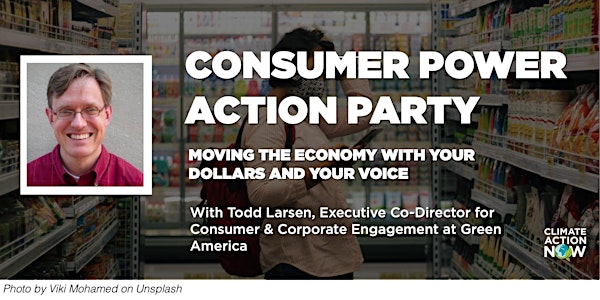 Climate Action Party: Consumer Power with Todd Larsen
This holiday season is another opportunity to use our consumer power for the good of the planet.
Refund Policy
Contact the organizer to request a refund.
Eventbrite's fee is nonrefundable.
About this event
The holiday season is another big opportunity for climate-conscious citizens to use their economic power for the good of the planet. Join us and Todd Larsen of Green America for a Climate Action Consumer Power Party!
Green America is at the forefront of the movement to help consumers, investors, businesses, and the marketplace work together to create a socially just and environmentally sustainable society.
Whether it's where we bank, how we invest, what we buy, or how we use our voices as consumers, we have much more power than we think. Todd will tell us how to wield our economic power for maximum impact. We'll then fire up the CAN app for our signature Action segment with a goal of sending 1,000 messages to political and business leaders advocating for more responsible business practices.
About Our Featured Guest
Todd Larsen is the Executive Co-Director for Green America. He directs Green America's corporate responsibility and consumer engagement programs. Green America's corporate responsibility programs educate consumers and investors about the environmental and social records of major companies and encourage them to take action to promote greater responsibility. In addition, Green America provides tools and resources to companies to help consumers, businesses and investors improve their impacts on people and the planet.
Green America's campaigns succeeded in getting Hershey to address child labor in cocoa, Apple to reduce toxins in its factories, AT&T and Amazon.com to adopt renewable energy, 200 publishers to use recycled paper for their magazines, and over a dozen food companies to move to more sustainable food production.
Todd has over 20 years of experience in public education and corporate campaign work and has a master's degree in Political Science from the University of Wisconsin – Madison.
About Our Moderator
Marianne Krasny, Ph.D., is the Director of Food Policy for Climate Action Now. She is a professor in Natural Resources and the Environment at Cornell University where she directs the Civic Ecology Lab. Her work with Climate Action Now focuses on food and farm policy, including reauthorization of the Farm Bill. Her latest book, In This Together: Connecting with your Community to Combat the Climate Crisis, will be out in March 2023.
About Our Action Parties
An Action Party is an online event that packs valuable information and concrete action into a 60-minute venue.
Each Action Party has an environment-related topic and a featured guest who is an expert in that topic. We begin with a 20-minute presentation by the featured guest, followed by 20 minutes of Q&A, and then 20 minutes of optional action-taking with the Climate Action Now app. The actions have been prepared in advance to help participants take the most impactful action in the shortest period of time. During the action segment, the party's moderator sets a goal for the number of actions to be taken and shows participants their progress towards that goal in real-time with an online, automated goal tracker. Participants can socialize during the action segment.
Action parties are free and open to all who seek a more just and sustainable world, but we welcome donations to help us continue our mission of creating a just and liveable planet for all.
How to Get the Climate Action Now App
If you want to participate in the action-taking segment, you can get the FREE Climate Action Now app by scanning the QR code below with your phone's camera OR by searching for "Climate Action Now" in your app store and downloading it to your phone. The app is currently available to users in the United States only.