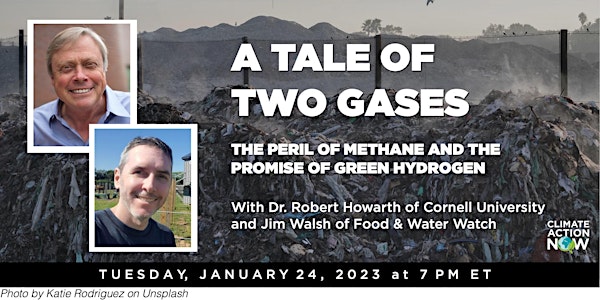 Climate Action Party: A Tale of Two Gases - Methane and Hydrogen
Methane, bad. Hydrogen, good? The fossil fuel industry wants us to think hydrogen is the future, but is it?
Refund Policy
Contact the organizer to request a refund.
Eventbrite's fee is nonrefundable.
About this event
Two gases are at the heart of the energy transition: methane and hydrogen.
Methane, bad. Hydrogen? Not so fast! The fossil fuel industry wants us to think hydrogen is the future, and while there might be some limited role for hydrogen in a clean energy economy, it is far from the panacea the oil and gas industry is pushing and has the potential to do more harm than good. What do climate activists need to know about these much-hyped gases? What is their proper role in our energy future? And where do we, as active climate citizens, need to focus our efforts?
Climate Action Now has tapped two experts to help us sort facts from hype and chart an informed path forward.
Our first speaker, Dr. Robert Howarth is an expert on methane, and one of the most cited environmental scientists in the world. Bob will give us the science on methane and explain why it poses a serious threat to the planet.
Our second speaker, James Walsh, is Policy Director at Food & Water Watch, a leading environmental organization. Jim will give us the good, bad, and ugly of hydrogen and tell us what policies are needed to promote green hydrogen and scale back methane.
As always, we'll then fire up the Climate Action Now app to put knowledge into action with our signature Action Party segment where we'll use the app to send hundreds of letters to political and business leaders demanding sensible solutions to the methane problem and policies for scaling up green hydrogen.
It's going to be informative, hard-hitting, fun, and meaningful. Don't miss it. Sign up now!
About Our Featured Guests
Dr. Robert Howarth is an Earth systems scientist and ecosystem biologist at Cornell University. He has published over 250 scientific papers, reports, and book chapters and has edited or authored eight books. His peer-reviewed papers have been cited more than 75,000 times in other peer-reviewed literature, making him one of the 100 most cited environmental scientists in the world. Howarth's research is broad ranging and includes extensive analysis of the greenhouse gas consequences of methane from natural gas.
Howarth has a long history of public and academic service. He has served on numerous governmental and international committees and panels, including 10 of the National Academy of Sciences (chair of 3 of these). He is the Founding Editor of the journal Biogeochemistry and served as Editor-in-Chief for more than 20 years. From 2014 through early 2019, he was the Editor-in-Chief of Limnology & Oceanography, the flagship journal of the American Society for Limnology & Oceanography. Currently, Howarth serves on New York State's Climate Action Council, the group charged with implementing the State's ambitious climate goals laid out in the Climate Leadership and Community Protection Act of 2019. He also is the Editor-in-Chief of Ocean-Land-Atmosphere Research, and he sits on the board of directors of Food & Water Watch.
Jim Walsh currently serves as the Policy Director for Food & Water Watch. In this capacity, Jim works with Food & Water Watch's policy experts and national allies to develop and implement campaigns to mobilize the public and educate decision-makers on strategies that support the development of a better food system, a safe and livable climate, and support safe and clean public water for all.
Jim first found his passion for social justice when he started volunteering for the Milwaukee Catholic Workers while earning a degree in economics from Marquette University. After graduating from Marquette, he participated in an organizing fellowship with the New Jersey Public Interest Research Group at Rutgers University. He then went on to work for Family Promise, organizing communities of faith on issues of poverty and homelessness. Immediately prior to starting with Food & Water Watch, Jim was the Program Director for New Jersey Citizen Action where he would oversee statewide campaigns focused on a variety of social justice issues ranging from health care for all to ending the war in Iraq.
About Our Moderator
Marianne Krasny, Ph.D., is the Director of Food Policy for Climate Action Now. She is a professor in Natural Resources and the Environment at Cornell University where she directs the Civic Ecology Lab. Her work with Climate Action Now focuses on food and farm policy, including the reauthorization of the Farm Bill. Her latest book, In This Together: Connecting with your Community to Combat the Climate Crisis, will be out in March 2023.
About Our Action Parties
An Action Party is an online event that packs valuable information and concrete action into a 60-minute venue.
Each Action Party has an environment-related topic and a featured guest who is an expert in that topic. We begin with a 20-minute presentation by the featured guest, followed by 20 minutes of Q&A, and then 20 minutes of optional action-taking with the Climate Action Now app. The actions have been prepared in advance to help participants take the most impactful action in the shortest period of time. During the action segment, the party's moderator sets a goal for the number of actions to be taken and shows participants their progress towards that goal in real-time with an online, automated goal tracker. Participants can socialize during the action segment.
Action parties are free and open to all who seek a more just and sustainable world, but we welcome donations to help us continue our mission of creating a just and liveable planet for all.
How to Get the Climate Action Now App
If you want to participate in the action-taking segment, you can get the FREE Climate Action Now app by scanning the QR code below with your phone's camera OR by searching for "Climate Action Now" in your app store and downloading it to your phone. The app is currently available to users in the United States only.