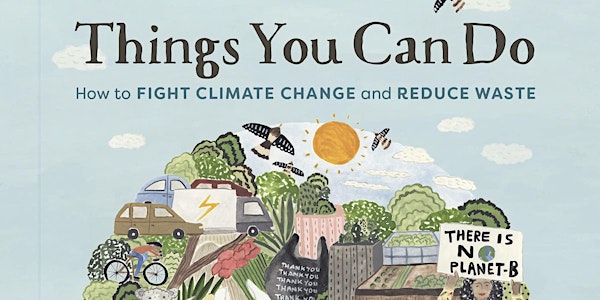 Climate Action and Sustainability: A Conversation with Local Authors, Artis
Join Flatbush Library for a community conversation on sustainability with New Yorkers who are working to make a positive impact.
When and where
Location
Brooklyn Public Library - Flatbush Branch 22 Linden Boulevard Brooklyn, NY 11226
About this event
Award-winning climate journalist Eduardo Garcia and illustrator Sara Boccaccini Meadows will talk about their new book, Things You Can Do, which offers a deeply researched and user-friendly guide to the many ways in which we can trigger positive change to help protect our planet. Using the book as a starting point, we'll host a conversation with Garcia, Meadows and three other New Yorkers who are working to create healthier communities and mitigate climate change: Anna Sacks (aka the trashwalker), Perl Egendorf and Katharhy G.
This event will take place in the upstairs community room at Flatbush Library. All are welcome. Masks are encouraged. Space is limited and seats are on a first-come, first-served basis.
This event will also be on Zoom. Visit the event page on the Brooklyn Public Library website for more information: https://bklynlib.org/climate-action
---------------------------------------------
Eduardo Garcia is a climate reporter who cut his teeth working as a Reuters correspondent in Latin America for a decade. In recent years, Eduardo has written about climate change, renewable energy, and electric vehicles for the New York Times, Slate, The Guardian, and Treehugger, among others. He is the author of "Things You Can Do: How to Fight Climate Change and Reduce Waste," a fully-illustrated book that was published by Penguin Random House in April 2022.
Sara Boccaccini Meadows is a print designer and illustrator living in Brooklyn, New York, originally from the rolling hills of the Peak District, England. She splits her time between working as a textile designer, illustrator, and artist, using watercolor and gouache to create quirky illustrations. Sara has long been a supporter of climate action and women's rights and is dedicated to using her art to make a difference.
Anna Sacks is a waste expert focused on passing waste legislation in NYC and raising consciousness about consumption on social media. She is the Legislative Chair of the Manhattan Solid Waste Advisory Board, co-founder of the #SaveOurCompost coalition, and shares her trash adventures with nearly half a million followers as @thetrashwalker.
Sara 'Perl' Egendorf, PhD (they/she) is an Earth and Environmental Scientist who studies urban soils and the ways they promote food-, environmental- and climate-justice. As a researcher with the NYC Compost Project Hosted by Earth Matter, Perl draws from transdisciplinary and participatory action research methods to co-create research with urban composters and growers on the use of small-scale composts for growing crops across the five boroughs.
Katharhy G. is a science researcher, community organizer and educator whose work promotes resiliency and sustainability by incorporating perspectives of diverse stakeholders. Katharhy is an adjunct professor at CUNY and the co-founder and director of K'ALLAM'P, an organization that collaborates with Indigenous communities to address the impacts of climate change.
Copies of "Things You Can Do: How to Fight Climate Change and Reduce Waste" will be available to purchase from the author.