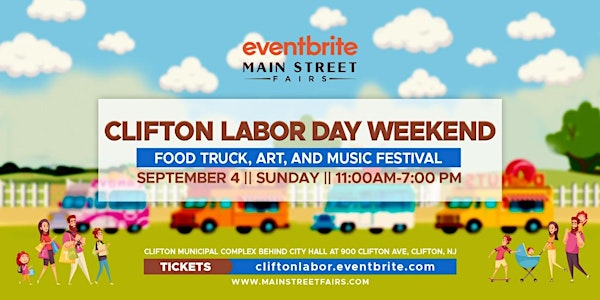 Clifton 'Labor Day Weekend' Food Truck, Art, and Music Festival
Come and celebrate a day in the sun with quality food trucks and fabulous music.
When and where
Location
Clifton Municipal Complex 900 Clifton Ave Clifton, NJ 07013
About this event
JOIN US FOR A DELIGHTFUL DAY AT CLIFTON MUNICIPAL COMPLEX IN CLIFTON, NJ ON SUNDAY, SEPTEMBER 4.
Sponsored by Sponsor is Clifton Veterans Committee.
Admission - $5
Kids under 36" in height - Free
Buy at the door.
Come and celebrate a day in the sun with fabulous food trucks, arts, and great live music! Special activities for the kids.
Be ready for a good time!
-Bring your family - plenty of fun for all
-Bring your dog - we'll have plenty of water bowls
-Bring blankets and chairs - pop up tents permitted
-Waterloo Village charges $5 per car for parking
Buy at the door.
Adult beverages will also be available - Be sure to bring your ID.
-4 different types of Domestic and craft beers will be available.
-La Torita red sangria and Beranger white sangria
-Cocktails made from scratch: Margaritas, mojitos, rum punch
Have your ID ready at the entry point.
Food Trucks:
Hitting ur Bellyv - Fusion BBQ
Latin Bites - Puerto Rican/Cuban
Greece Lightning - Greek
Eat my Balls - Sicilian Arancini (Rice balls),
Authentic BBQ - BBQ
Mexi-Boys - Mexican, of course!
Uncle Louie G Italian Ice and Ice Cream - Italian Ice and Ice Cream
Empanada Lady - The best empanada's, of course!
Harry's Lil Kitchen - Where Puerto Rico meets New Jersey
Taxi Cab Burger - Sliders/Hot Dogs
Bakerly Way - Cookies, cupcakes, brownies, banana pudding, hot chocolate, dog cookies
Mr. Cooper's Funneland - Funnel Cakes, Fried Oreos
Event Schedule:
Bands – TBD
Interested in becoming a vendor? Contact Us!
Add your name to our mailing list here:
http://www.mainstreetfairs.com/mailinglist.htm
Visit our website for more upcoming events here:
http://www.mainstreetfairs.com
Caveats
The weather is not always our friend.
People occasionally get sick and bands occasionally cancel. Magicians have days that aren't magic and clowns have days that aren't funny. Other things periodically pop up to subvert our best intentions.
Please check these pages for the latest details.
*Unfortunately Dogs are NOT allowed at this event*
Obviously, outside food, drinks or coolers are not allowed inside. Bags are subject to search.
Other than the ground, seating is not provided.