CLIFFORD SYMPOSIUM: Judge Weinstein's Impact on Civil Justice in America
When and where
Location
DePaul Chicago, IL 60604
Description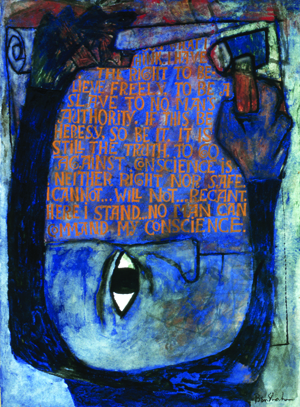 20th Annual Clifford Symposium on Tort Law & Social Policy
The 2014 Clifford Symposium will explore Judge Jack Weinstein's impact on a broad range of topics in civil justice, from torts, civil procedure and the law of evidence, to broader notions about what it means to be a judge and to seek justice in America's courts.
Special Video Address | April 24, 2014
Justice Stephen G. Breyer, Supreme Court of the United States
DePaul University College of Law is an accredited Illinois MCLE provider. This program has been approved for up to 9.75 hours of CLE credit.
SYMPOSIUM AGENDA
Thursday, April 24, 2014
9:00 Registration and Continental Breakfast
9:45 Opening Remarks
Stephan Landsman

, Robert A. Clifford Professor of Tort Law and Social Policy

Gregory Mark

, Dean, DePaul University College of Law

Robert Clifford

, Principal and Founder, Clifford Law Offices
10:00 Special Video Address:
JACK WEINSTEIN AND THE LAW: A FELLOW JURIST'S PERSPECTIVE
The Honorable Stephen Breyer, Associate Justice, United States Supreme Court
10:30 Group Session I: JUDGE WEINSTEIN AND PROCEDURE
Presenters:
Howard Erichson -

The Anti-Proceduralist Judge

Alexandra Lahav -

Participation and Procedure

David Marcus -

Two Models of the Litigation in Civil Litigation

Linda Mullenix -

Competing Values: The Tension Between Litigation Autonomy and Collective Redress

Adam Zimmerman -

The Global Convergence of Global Settlements
Discussant: Catherine Sharkey
12:30 Lunch
1:15 Group Session II: JUDGE WEINSTEIN AND TORTS
Presenters:
John Goldberg -

Judging on the Edge: Mass Torts or Mass Equity?

James Hackney -

Judge Weinstein and the Construction of Tort Law in America: An Intellectual History

Robert Rabin -

Judge Weinstein and the World of Tort in Historical Perspective

Catherine Sharkey -

The BP Oil Spill Settlement: Judge Weinstein's Legacy
Discussant: Kenneth Feinberg - Unconventional Responses to Unique Catastrophes: How Judge Weinstein Tailors the Law to Meet the Challenges
3:15 Break
3:30 Group Session III: JUDGE WEINSTEIN AND EVIDENCE
Presenters:
David Faigman -

Organized Common Sense: Judge Jack Weinstein's Uncommonly Sensible Approach

to Expert Evidence

Richard Friedman -

Jack Weinstein, Hearsay Reform and the Missing Link

Jennifer Mnookin -

Evidence in the Age of Mechanical Reproduction
Discussant: Stephan Landsman
5:00 Concluding Remarks
Friday, April 25, 2014
8:30 Registration and Continental Breakfast
9:00 Remarks by Judge Weinstein
Mass Litigations and Disasters Require the Integration and Coordination of Our Legal Systems
9:30 Group Session IV: PERSPECTIVES FROM THE PROFESSION
Presenters:
Kenneth Feinberg

John Gleeson

Judith Kaye

Brian Martinotti

Shira Scheindlin
Discussant: Stephan Landsman
11:30 Break
11:45 Group Session V: PERSPECTIVES FROM ACADEMIA
Presenters:
Susan Bandes -

Empathy and Article III: Judge Weinstein, Cases and Controversies

Anita Bernstein -

The Feminist Jurisprudence of Jack B. Weinstein

Shari Diamond -

What a (Very) Smart Judge Knows About Juries

Jeffrey Morris -

Leadership from the District Court: The Impact of the Much Respected,

Much Reversed, Jack Weinstein on the Law

Elizabeth Schneider -

Procedure as Substance

Tom Tyler -

The Psychology of Aggregation: Promise and Potential Pitfalls
Discussant: Stephan Landsman
1:30 Concluding Remarks