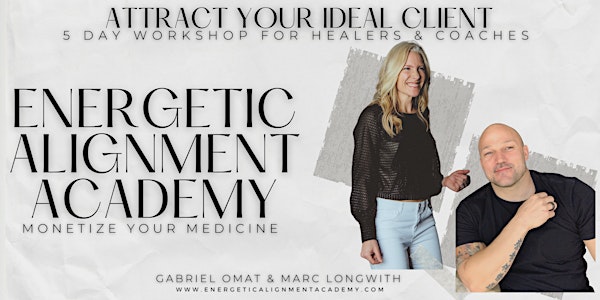 Client Attraction 5 Day Workshop I For Healers and Coaches - Vancouver
Learn the secret behind attracting your ideal clients, without chasing them down, spamming their inbox, or posting in Facebook groups
About this event
This workshop will be held live on Zoom
GIVE US 5 DAYS AND WE'LL
GIVE YOU AN ENERGETIC SHIFT!
We invite you to throw out all the rules for
just 5 days, & join us on a journey of self-discovery.
THIS IS MORE IMPORTANT THAN ANY OTHER TOOL, SYSTEM, OR TRAINING OUT THERE
You can be the best coach, have the best website, funnel, & program around, but without this missing link, none of it matters. We want to show you how to take action from an aligned place. That's when the magic happens!
When you are truly aligned,
you don't have to sell anyone.
YOUR AUTHENTICITY SELLS ITSELF
Ready to create an energetic shift in your business?
Get yourself signed up and check your email for details! We can't wait to see you.
There's a couple things you want to do to make sure you get the most out of this:
Get ready to shift your energy!
This challenge is one of a kind.
We aren't holding anything back.
We're going ALL-IN to give you everything you need to create major shifts in your own energy so that you can become authentically aligned with your prospective clients. When that happens, they can't help but be attracted to what you have to offer!
The fact that this is FREE is pretty awesome. But we are on a mission to help other healers & coaches step into their own truth so they can create a business they love while also giving back to the world.
Here's a quick sneak peek of what's to come!
Day One: Your Relationship With Yourself - Belief
Your relationship with yourself is paramount. You are a creation machine everything you create is a reflection of yourself. You are the foundation. You are literally the main player in your own video game. In order to create a fully booked business, you have to not only believe it's possible but you have to believe your clients are already right out there in your orbit, just waiting to sign up with you.
Day Two: What Lights Your Fire?
What really lights your fire?
Your offer must be something you feel energetically aligned with. What would you love to coach or help people with if it wasn't at all about the money? Too often we see coaches in niches that they aren't even excited about, because they think it's the best way to become profitable.
Nonsense!
The best way to become profitable is to be your authentic self.
Day Three: Your Ideal Client
We want you to get to know your ideal client intimately.
The more you know about them, the more they are attracted to what you have to offer. The beauty of being aligned with your ideal client is that you get to work ONLY with the people you want to work with. Today you'll get total clarity on who that is and then you'll start talking to them specifically in your marketing.
Day Four: Your Perfect Average Day
This is a powerful one!
We'll walk you through an exercise where you'll create your perfect average day. This is a powerful manifestation technique that invites the universe to partner with you and your vision. It gives you clarity on what kind of life you want to create and whether or not your business aligns with this vision.
Day Five: Maintaining Energetic Alignment
Now that you've aligned with your true self, vision and clients, let's incorporate some daily practices to keep it up! We'll share amazing tools and techniques we've used with ourselves and our clients to promote flow and ease in your business.
Pretty awesome, right?
We're excited to see you there!
~ Marc & Gabriel
Organizer of Client Attraction 5 Day Workshop I For Healers and Coaches - Vancouver