Cleveland Mini Maker Faire 2017

Saturday, November 4, 2017 from 10:00 AM to 5:00 PM (EDT)
Event Details
Attendance is Free!  Why sign up for a ticket?
Signing up for a ticket gets you in the door more quickly so you don't have to wait in line to enjoy all the Maker Faire fun!  You will need to get a wristband in order to participate in workshops, hands-on making activities and other Maker Faire events.  Don't waste your time standing in line!  Just check in, get your wristband and start Making! 
 Registration will also help us to gauge how many people will be coming and will help us plan our exhibits and interactive displays so that we will have enough materials for everyone to take part and enjoy.
What day(s) and hour(s) will Cleveland Mini Maker Faire be open to the public? 
Cleveland Mini Maker Faire takes place on Saturday, November 4, 2017 from 10:00 a.m. - 5:00 p.m. at the Cleveland Public Library's Main Library complex at 325 and 525 Superior Ave., Cleveland, OH 44114
Where can I park? 
Visit http://parking.downtowncleveland.com/civic-center/ for an online guide and a map of parking options in the City Center area. 

Where is the handicap parking located?
The Downtown Cleveland Alliance Parking Guide for City Center includes listings of all parking options and facilities.  http://parking.downtowncleveland.com/civic-center/   All garages include handicap parking facilities.   

Where can I park my RV?
The Cleveland Municipal Parking Lot is the best place to park RVs or other large vehicles.

Is public transportation available? 
Yes.   The Cleveland Public Library is located a short distance from Public Square and is easily accessible by public transportation.  Visit http://www.riderta.com/  to plan your trip.  Riding RTA saves you the hassle of finding and paying for parking and gets you to Maker Faire quickly and easily. Nearly all bus and rapid lines stop within two blocks of the library. The FREE RTA trolleys also make it easy and free to access all of the highlights of Downtown Cleveland.  
Will you have bike parking? 
Bike racks are located in front of the library's Eastman Reading Garden on Superior Ave. 
Visitors will also find a UH Bikes Cleveland Bike Share rack in the same location.  
In addition, The Bike Rack is a short walk away at 2148 East 4th St., providing indoor bike parking, showers and changing facilities and basic maintenance and repair assistance.   
What if it rains? 
The show will go on! Bring rain gear to keep you dry when walking outdoors. Fortunately, we will have many indoor exhibits to keep the family dry.
What can I expect?
To have a fantastic time! You'll be surprised and intrigued at every corner that you turn. Be prepared for hands-on exploration and Making, exciting exhibits and even a 30-foot fire-breathing dragon!   
Rain or Shine. No Refunds/Exchanges. Tickets cannot be replaced.
 Cleveland Mini Maker Faire is independently organized and operated under license from Maker Media, Inc.  
I understand that by registering here,  Maker Media may provide me with updates and information about Maker Faires, other events, and products of interest to the maker community.  I understand that I may opt out of these communications at any time.
 
When & Where

Cleveland Public Library - Main Library
325 Superior Avenue
Cleveland, OH 44114


Saturday, November 4, 2017 from 10:00 AM to 5:00 PM (EDT)
Add to my calendar
Organizer
About Cleveland Mini Maker Faire:
The sixth annual Cleveland Mini Maker Faire is a hands-on celebration and showcase of Cleveland's inventive, DIY spirit.  This family-friendly event is hosted by the Cleveland Public Library and provides a full day of FREE exhibits, activities, workshops and just plain fun for all ages.  You can do everything from learning to solder to making your own paper....all for free.  Don't miss the demonstrations of armor and swordplay.  Check out robots, make puppets and put on a show,  visit NASA Glenn...you never know what you find around the next corner.  Oh, and watch out for the 30-foot fire-breathing dragon! 
About Maker Faire:
Maker Faire is the Greatest Show (and Tell) on Earth—a family-friendly showcase of invention, creativity and resourcefulness, and a celebration of the Maker Movement. It's a place where people show what they are making, and share what they are learning.
Makers range from tech enthusiasts to crafters to homesteaders to scientists to garage tinkerers. They are of all ages and backgrounds. The aim of Maker Faire is to entertain, inform, connect and grow this community.

The original Maker Faire event was held in San Mateo, CA and in 2016 celebrated its eleventh annual show with some 1300 makers and 150,000 people in attendance. World Maker Faire New York, the other flagship event, has grown in five years to 900+ makers and 90,000 attendees. Thirty-one larger scale Maker Faires occur in cities around the world—Detroit, Atlanta, Berlin, Paris, Rome, Tokyo, and Shenzhen to name a few— and over 150 community-driven, independently organized Mini Maker Faires are now being produced in the United States and in 34 other countries around the world.
About Make: Magazine: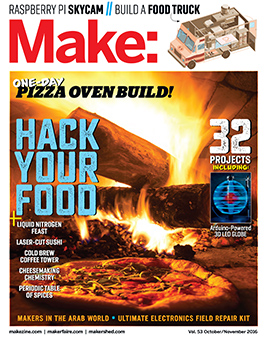 Make: is the first magazine devoted entirely to Do-It-Yourself (DIY) technology projects. Make: unites, inspires, informs, and entertains a growing community of resourceful people who undertake amazing projects in their backyards, basements, and garages. Make: celebrates your right to tweak, hack, and bend any technology to your will. Download a free issue here.
Besides the magazine and the faire, Make: is:
a vital online stream of news and projects, blog.makezine.com;
a retail outlet for kits and books, the Maker Shed;
a steady stream of fun and instruction via our YouTube channel;
Make: Projects, a library of projects with step-by-step instruction;
a publisher of best-in-category titles via Make: Books, including introductions to electronics, Raspberry Pi, 3D printing, Arduino and more.