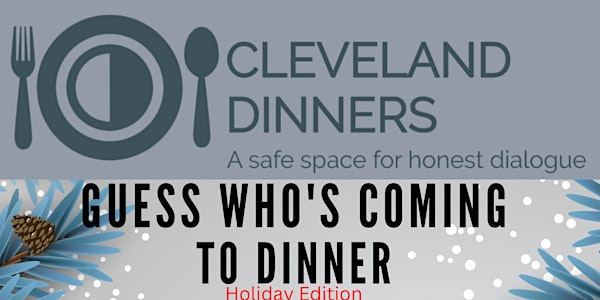 Cleveland Dinners Virtual Event - Holiday Edition
Join us on November 20th from 5-7pm EST for our monthly Equity Dinner.
About this event
Why the Cleveland Dinners?
For years in Cleveland, we have confronted the issues of discrimination, poverty, gentrification, racial disparities, as well as religious and political divisions, among others. With the Cleveland Dinners, we believe that building a strong foundation for open and honest dialogue on these difficult issues starts with providing a safe space. For us, that safe space is the dinner table where we break bread together. We believe by sharing a meal with people of diverse backgrounds, we open ourselves to seeing issues from vastly different angles, simultaneously feeding our human need for meaningful connection. This opens a whole new world of opportunities to bridge the divide we may have with others, at the same time helping us support one another in our neighborhoods as we powerfully and collectively tackle and resolve the shared critical issues of the day.
How
An actor jump-starts the evening, offering guests an emotional performance that looks into one's life. This allows people to share their own stories without first requiring a person of color to put their personal pain on display.
Designated Facilitators guide and keep the conversation on track in every group.
Intentional Diversity in every virtual breakout room and live dinner group, mixed by race, geography, economics, and age. Based on who signs up, our design team helps disperse the guests to maximize the presence of different perspectives at the table.
Strategic Community Engagement and planning. We don't rely solely on hosts to recruit guests; we actively work with community partners to reach out to the whole community.
Selective Media Buzz highlighting a bigger picture, to stretch well beyond just one event.
Where
Currently, dinners are virtual from anywhere you would like. Once it is safe again and social distancing measures are lifted, dinners will be live in homes, places of worship, and community spaces across Cleveland.
When
Virtual dinners occur monthly on the fourth Sunday from 5-7PM.
Visit ClevelandDinners.org for more information and to sign up for our mailing list.