Description
Click register on the upper right, then follow prompts to enter your promotional code for a free pass.

Angelbeat is hosting this comprehensive 1/2 day seminar, where the keynote by world renown Google cloud solution engineer Joe Intrakamhang covers private/public/hybrid cloud and infrastructure/data center architecture, and when to expand internally and purchase more storage/network equipment, versus renting capabilities/services from third party/hosted providers. Technical experts from Dell, Nutanix, Glue, Silver Peak, Cohesity, Carbonite and Expedient are also featured speakers on hyperconverged infrastructure, security/ransomware, storage/mobility, mobility/thin clients, SD-WAN and network management. Just great content on today's (and tomorrow's) top issues.

Scroll down to see the full agenda and click on links to see company information and speakers' biographies, who deliver concise, technical, educational and non-salesy talks. Content is pre-approved by Angelbeat and past attendees to maximize learning; click here to download presentation guidelines that are followed by all participants, which makes the program so worthwhile for technology professionals, business executives, etc.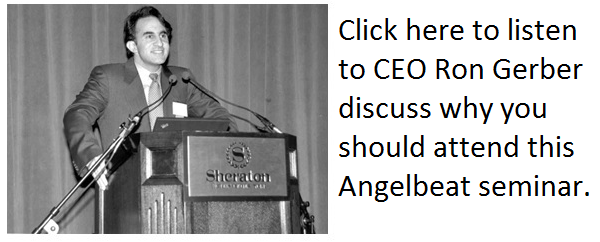 As one Walmart attendee states, "Of all the seminars I attend, your format is by far the best. Brief informative talks from vendors, followed by one-on-one time at their booth to find out more. I am out of the office for less than a day yet I have access to all the different solutions. This year I will follow up with two vendors." As another IT Director commented, "Thanks for hosting a very informative meeting with vendors that tied in well; it was an integrated picture of technologies that work together to create a complete infrastructure solution for the workplace."

Join your peers from KeyBank, Cleveland Clinic, Steris, PolyOne, J.M. Smucker, Honeywell, Austin Powder, Progressive Insurance, TTI Floor Care, Vexos, Kichler, Gallagher Sharp, Redwood Living, Mercy Medical, VA Hospital, Case Western Reserve University, Kent State University, Walsh University, Cleveland Public Schools, Berea City Schools and many more organizations who are confirmed attendees.

Every attendee receives breakfast and lunch, complimentary WiFi, plus 4 CPE credit hours towards your CISSP or other certification. There are drawings for an Amazon Echo, $100 gift cards and other prizes.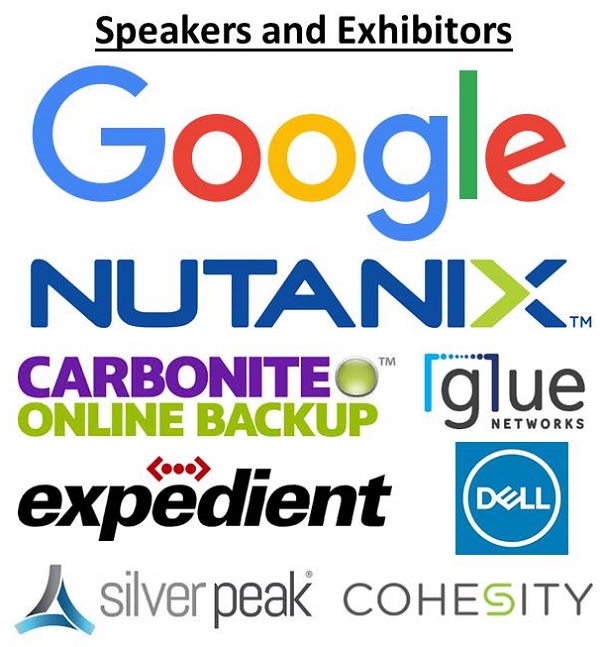 Agenda

7:30 - 8:40: Registration Begins, Full Hot Breakfast and Coffee Served, Exhibit Area Open with Product Demonstrations, Time For Peer Networking/Interaction

8:40 - 9:00: Disaster happens, DRaaS and Cloud-Based Backup, Security/Ransomware Solutions with Carbonite
Cloud-based solutions for Backup/Disaster Recovery are becoming increasingly relevant. Learn from industry leader Carbonite on how DR as a Service (DRaaS) can provide peace-of-mind and ensure that your data is always available and backed, regardless of any technical, electrical, weather-related or security issue at your physical location.

In mid-May more than 100,000 organizations, mainly in Europe and Asia, were hit with the devastating WannaCry ransomware attack. To recover from such an attack, the answer is not paying Bitcoin demands but instead restoring the most recent data. Click here to watch Angelbeat CEO Ron Gerber's video commentary plus more insights on this critically important topic will also be covered by Carbonite.

9:00 - 9:20: Software Defined Wide Area Networks (SD-WAN) with Silver Peak
Geographically distributed enterprises are embracing SD-WAN at an accelerating pace. As applications continue to move to the cloud, networking professionals are quickly realizing that traditional WANs were never architected for a dynamic, internet-based environment and recognize that backhauling traffic from the branch to headquarters doesn't make sense. Furthermore, end users often find their business apps run faster over their home Internet service, or even on their mobile device.

During this technical session on this increasingly important topic, Ken Kirkman from Silver Peak will help you better understand how and why to deploy SD-WAN in your network infrastructure, covering the following topics:

- Address and overcome concerns around overall network performance, reliability and security
- Harden broadband internet connectivity for a secure SD-WAN
- Extend micro-segmentation from the data center across the WAN to securely connect users to applications and meet compliance requirements
- Eliminate latency and performance limitations of broadband
- Prioritize mission-critical applications and ensure that non-business/consumer applications that are bandwidth-intensive, such as Netflix, do not impact customer service
- Connect the branch securely and directly to SaaS applications and trusted web services using broadband significantly increasing performance
- Interoperate with existing routers and WAN infrastructure to migrate to SD-WAN at your own pace, or replace branch routers with an SD-WAN alternative for greenfield installations and router refresh projects
- Simplify management, configuration and expansion of branch offices with centralized management and zero-touch provisioning to lower OPEX and reduce configuration errors
- Lower overall WAN costs by up to 90%

9:20 - 9:40: Multi-Vendor Network Infrastructure Complexity; How to Simplify with Glue Networks
Typical networks have become increasingly complex and require constant attention, especially when there is a multi-vendor architecture/configuration.

To greatly simplify network management, Glue Networks created Gluware, a software-based orchestration platform that reduces life cycle costs and boosts network agility. Richard Long from Glue Networks will demonstrate how network operations teams can simplify tasks like switch management, ACL, QoS, firewall rules and many other time consuming functions. Gluware makes the network work for operations - not the other way around.

9:40 - 10:00: From Traditional to Next-Generation: Demystifying Hyperconvergence and Enterprise Clouds with Nutanix
As enterprises look beyond traditional IT workloads including cloud-native applications and DevOps, they should consider how technologies such as software-defined infrastructure and cloud can drive real-world benefits.

During this informative session featuring Scott Ryden of Nutanix, learn how IT can move away from traditional environments to hyperconverged infrastructure and onward to Enterprise Clouds. These new platforms can handle all your challenging applications and business needs, with clear agility, productivity and availability/security benefits. At the end of this session, you'll:

- Acquire proven strategies for delivering frictionless IT services while retaining the precise control your business needs
- Understand new capabilities that tear down IT silos and unify the technology stack
- Learn best practices in virtualization, application design and cloud technologies

10:00 - 10:20: Secondary Data Storage Sprawl Solutions with Cohesity
Secondary data consumes about 80% of enterprise storage capacity and imposes a huge burden on enterprise IT budgets. Secondary data is traditionally stored on a complicated patchwork of point appliances for backups, files, objects, test/dev copies, and analytics data. This infrastructure is fragmented, complex to manage, and inefficient.

The Cohesity DataPlatform consolidates and manages all your secondary data at web scale – including backups, test/dev copies, files, analytics data, and objects. DataPlatform provides distributed storage with best-in-class space efficiency, efficient copy data management, and native cloud integration. The platform incorporates data management functions for converged data protection, in-place analytics, and copy data management to automate DevOps workflows.

10:20 - 10:40: Business Needs Relief Through Infrastructure-as-a-Service (IaaS): How Juggling Too Much Leads to Not Enough with Expedient
In today's world, IT can be a 24/7/365 job. The nonstop demands in the age of digital transformation mean companies' IT teams are stretched thin, juggling too many tasks that divert focus from their core business objectives – resulting in misused resources, wasted time and lost revenue.

During this technical and informative briefing, technology strategist Alex Castanedez will talk about how partnering with a trusted Infrastructure-as-a-Service provider such as Expedient can help alleviate the stress of everyday tasks on businesses' IT teams.

Coffee Break, Product Demonstrations and Exhibit Area Open, Peer Interaction

11:20 - 11:40 Cloud Client Computing and Virtual Desktops with Dell
With a highly mobile-centric workforce that relies heavily on cloud-based applications, organizations of all sizes are rapidly deploying thin client devices/virtual desktop infrastructure (VDI), justfied by security, financial and administrative factors.

During this informative session, that builds upon the previous WiFi discussion, you will learn how Dell cloud client computing solutions can protect vital content, support a vast array of clients, plus efficiently manage desktops and remote offices for your entire workforce. Only Dell offers a comprehensive, end-to-end virtual desktop infrastructure (VDI) solution that will transform your digital workspace, enable BYOD, simplify endpoint management, and securely deliver any application, to any user, on any device.

11:40 - 12:30: Google Cloud Platform
The Google Cloud Platform enables organizations of all sizes to build, test and deploy applications on Google's highly-scalable and reliable infrastructure, choosing from computing, storage and/or application services for your web, mobile and/or backend solutions. Joe Intrakamhang, a top enterprise and technology strategist at Google, will discuss how and why to use this innovative platform, covering the following items:

Run on Google's infrastructure: Build on the same infrastructure that allows Google to return billions of search results in milliseconds, serve 6 billion hours of YouTube video per month and provide storage for 425 million Gmail users.
Mix and match services: Virtual machines. Managed platform. Blob storage. Block storage. NoSQL datastore. MySQL database. Big Data analytics. Google Cloud Platform has all the services your application architecture needs.
Performance you can count on: Every millisecond of latency matters. Google's compute infrastructure gives you consistent CPU, memory and disk performance; its network and edge cache serve responses rapidly to your users across the world.
Focus on your product: Rapidly develop, deploy and iterate your applications without worrying about system administration. Google manages your application, database and storage servers so you don't have to.
Scale to millions of users: Applications hosted on Cloud Platform can automatically scale up to handle the most demanding Internet-scale workloads and scale down when traffic subsides. You pay only for what you use.
Get the support you need: With our worldwide community of users, partner ecosystem and premium support packages, Google provides a full range of resources to help you get started and grow.

End of Event, Lunch, Raffle Prize Drawings for an Amazon Echo, $100 gift card and other great items!

FAQs

What are Angelbeat's privacy and optin/optout policies
Each attendee acknowledges/understands that financial support from Angelbeat sponsors allows him/her to attend this event at no cost, and that the sponsors will be given your contact information 2 days after the event for follow-up email and telephone communications. All sponsors are required to provide you with an opt-out option, allowing you to be removed from their database

However each attendee can opt-out of sponsor follow-up by informing Angelbeat staff at the event, or by emailing Angelbeat immediately after the event, but before Angelbeat releases the attendee list to the event sponsors.

If you have any questions regarding Angelbeat's privacy policies and how your contact information is used, please contact CEO Ron Gerber directly at 516-277-2057 or at rgerber@angelbeat.com.

Who might be available to receive the special Promotional Code and free pass
There is a special promotional code, that will allow you to attend for free, that is limited and only available for end user IT professionals who work in the telecom/network/storage/security/data center/desktop/purchasing departments of corporations (private and publicly-held, large and small), universities, school districts, government agencies, hospitals/healthcare providers, pharmaceuticals, insurers, manufacturers, retailers, financial services/banks, real estate, legal/accounting/services, transportation/logistic firms, etc. and use, support, approve and/or are involved in or influence the decision to buy the products and services offered by our sponsors.

Reporters from major newspapers, websites and other media outlets are eligible for a free pass and must submit in advance their media credentials to the event organizer for approval.
All other individuals who are not end user, IT professionals must pay the registration fee.

In all cases Angelbeat reserves the right to accept or reject a registration at its sole discretion.

What are my transport/parking options getting to the event
Detailed driving directions will be sent out to all attendees one week before the event. There is complimentary self-parking at the hotel.

What is the dress code
Suggested dress is business casual.

What if you have special dietary needs/restrictions
If you have special dietary needs/restrictions, then please email Angelbeat below. We will do our best to accommodate any and all requests.

What if I am a government employee and cannot accept free meals and/or win raffle prizes
If you are a government employee and cannot accept free meals, then you can pay Angelbeat $35/person, to cover the cost of meals. Please contact the event organizer at registration@angelbeat.com to arrange payment.

Each sponsoring company/exhibitor handles its own raffle prize drawing; Angelbeat itself has nothing to do with these prizes and attendees are not automatically entered for any raffle prize drawing. Since each attendee must individually signup to win a raffle prize, then government employees (who are not eligible to win these prizes) can simply not signup for the drawing.