Clergy Day - Gathering of ECCT and the Society of Scholar Priests - On-site Registration is available. Please bring a Bag Lunch.

Thursday, June 8, 2017 from 8:00 AM to 2:30 PM (EDT)
Event Details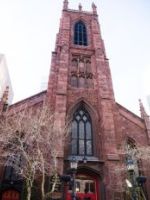 CLERGY DAY
GATHERING
of
ECCT and the Society of Scholar Priests
June 8, 2017

Christ Church Cathedral, Hartford
Come join clergy colleagues from ECCT and the Society of Scholar Priests for a day discussing Theological Imagination and Ministry:
"Worship is an act of poetic imagination that aims to reconstrue the world. By the phrase, "act of imagination," I mean it presents lived reality in images, figures, and metaphors that defy our conventional structures of plausibility and that host alternative scenarios of reality that cut beyond our conventional perceptual field. This act of imagination that offers an alternative world is, perforce, a poetic act; that is, it is given to us in playful traces and hints that come at us sideways and that do not conform to any of our usual categories of understanding or explanation. The practice of such poetic imagination that invites us playfully to alternative reality is deeply rooted in old texts, old memories, and old practices; but it requires contemporary, disciplined, informed imagination to sustain alternative vision." (Brueggemann, Disruptive Grace, p. 226)
8:30 AM Morning Prayer (Optional)
9:00 AM Gather
9:30 AM Intro from Bishops
9:45 AM Panel Presentation: Inhabiting a Theological Imagination
10:15 AM Facilitated Discussion Groups
10:45 AM Q&R with Panelists
11:15 AM Break
11:30 AM Eucharist
12:30 PM Lunch
1:30 PM Clergy Discussion with Bishops of ECCT
2:30 PM      Depart
Panelists: Rev. Joel Daniels, PhD: Rev. Robyn King; Rev. Lyndon Shakespeare, PhD
Joel Daniels serves as the associate for Evangelism at St. Thomas Fifth Avenue in NYC. Joel is also a post-doctoral fellow at the Institute for the Bio-Cultural Study of Religion, assistant editor of the journal Religion, Brain & Behavior, and a visiting scholar at Boston University, from which he received his doctorate in 2014. His book Theology, Tragedy, and Suffering in Nature: Toward a Realist Doctrine of Creation was published in 2016, and his articles have appeared in the Anglican Theological Review and the Journal of Ecumenical Studies. He serves on the Ecumenical Commission of the Diocese of New York, focusing on dialogue with the Eastern churches. In addition to Boston University, he is also a graduate of the General Theological Seminary and Columbia University.
Robyn King has a BA in History from the University of Montana and a Master of Divinity from The General Theological Seminary of The Episcopal Church.  Before becoming rector of St Peter's Anglican Church in the Diocese of Edmonton she served as the rector of a cluster of three small Churches in Montana and interim Camp Director for the Diocese of Montana. Robyn's writings may be found online at: https://theologybird.com/
An Episcopal priest, Lyndon Shakespeare has served parishes in Washington, DC, Virginia, New Jersey, and Long Island. From 2011–2013, Lyndon was the Director of Program and Ministry at Washington National Cathedral. As a scholar-priest, he teaches and publishes in the areas of theological anthropology and ecclesiology. His PhD thesis, written while as a member of the Archbishop's Examination in Theology, has been published in the Veritas series of Cascade Books with the title, Being the Body of Christ in the Age of Management. He currently serves as chair of the Society of Scholar-Priests which fosters and supports scholarly-minded priests in their vocation to serve in parish and teaching ministries.
When & Where

Christ Church Cathedral
45 Church Street
Hartford, CT 06103


Thursday, June 8, 2017 from 8:00 AM to 2:30 PM (EDT)
Add to my calendar
Organizer
The Episcopal Church in Connecticut (ECCT) (aka the Episcopal Diocese of Connecticut) is the collective witness and presence of 168 churches and other communities and institutions of the Episcopal Church in places across the state. It is overseen by the Rt. Rev. Ian T. Douglas, assisted by the Rt. Rev. Laura J. Ahrens. The common meeting space and offices for the bishops and church-wide staff are at The Commons, 290 Pratt Street, Meriden CT. Multiple staff use eventbrite for event registration. For a list of all ECCT events look for the ECCT calendar under the "Events" tab on www.episcopalct.org.