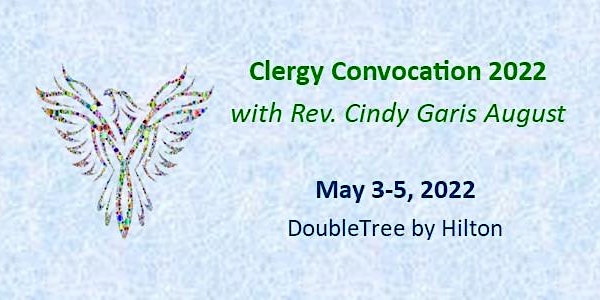 Clergy Convocation 2022
Clergy Convocation 2022 w/ Rev. Cindy Garis August
When and where
Location
DoubleTree Resort by Hilton Hotel Lancaster 2400 Willow Street Pike Lancaster, PA 17602
About this event
Welcome your new friends and colleagues from Penn Central as they join together for the first time with Pennsylvania Southeast and Penn Northeast Conferences for a time of collegiality, spiritual renewal and education for authorized ministries and members in discernment...Clergy Convocation 2022 !
All attendees are asked to be fully vaccinated against Covid-19!
Phoenix Faith: Catching up with the Spirit of God with Rev. Cindy Garis August
"The wind blows where it wills, and you can hear the sound it makes, but you do not know where it comes from or where it goes; so it is with everyone who is born of the Spirit.". (John 3: 8)
We know the saying "like a phoenix rising from its ashes" - and we know that from the burn out of recent years, we are ready for an image of life anew. Our Christian faith recognizes the cycle of life, death, and new life. It is the transformation of the Holy Spirit. At least, that's what we say. How do we encounter the Spirit of God? Is it elusive? Tangible? Nourishing? Challenging?
Our times of presentation and prayer will be facilitated by Rev. Cindy Garis. Come and explore our relationship with mysticism and contemplative prayer practices. In this time away, you will receive refreshment through rest, food, fellowship - and, yes, the Holy Spirit. This renewal will be accompanied by times for small group discussion, worship and personal free time.
You may already be familiar with spiritual practices and with other clergy, but this time apart will be restoring and renewing for you in body, mind and spirit.
Should this event not be able to take place, due to continued Covid restrictions, you will be able to obtain a refund.
Click here for flyer.
Click here for detailed description of presentations.
Click here for Pastor Garis' bio.
 When you register, you give your permission to use photos of you or your children for purposes of telling the story of the Pennsylvania Southeast Conference on the website or in video, newsletter and social media posts. If you are opposed to having your picture taken and possibly used in this way, please let us know by contacting the PSEC office at: susan@psec.org including your name (and/or names of your children) and your email and phone contact information.