Registration for FREE general admission is not required. This site is for TheClubVIP tickets only.
About this event
FREE
This event is FREE to the general public and walk-up guests are welcomed (Free admission does not include TheClubVIP tickets). Attendees may bring blankets and chairs.
TICKETED
Enjoy a premium experience at TheClubVIP! Club tickets are purchased here and Club access includes one ticket to SunFest 2022, a premium spot close to the stage, unlimited popcorn, and access to a private bar.
Patrons should follow all CDC guidelines.
September 23: Chemradery and Citizen Badger with Tabitha Meeks
As the sun sets on the West Palm Beach waterfront, Citizen Badger, also known as America's #1 millennial dad rock band, will kickoff the countdown and Mini Music Fest. The band was founded by Daylen Brinkley when he convinced a coworker and a college friend to play a show with him at 11 p.m. on a weeknight. A group chat was established, and soon the guys (Daylen on guitar/vocals, Mike Francoeur on drums, Jon McGrath on bass, and later Jeremy Lampinen on electric guitar) decided to continue playing shows.
Since then, they have gone on to play many concerts and even won the 2019 SunFest Battle of the Bands, though unfortunately, they were rained out. They were scheduled to return to the SunFest stage in 2020 when the pandemic suspended large-scale gatherings. The band experienced great growth during this time, however, with half the band relocating to Nashville.
Twilight time will usher in musical melodies from Nashville-based Tabitha Meeks, a singer/songwriter with a unique blend of folk and jazz music. Her Norah Jones style of singing and masterful piano improvisational skills, combined with her songwriting reminiscent of Randy Newman and Carole King, creates a fun and timeless sound.
For the finale, it's Chemradery. Chemradery is not a word in the English dictionary, but it might very well make it there if this band has anything to say about it. Led by singer Gray Scot, Chemradery came about when innovative minds merged their passion for music to create a sound that would inspire and leave a lasting impression; on themselves and the listener. Now based in Austin, Texas, Chemradery is a past SunFest 2017 Battle of the Band winner. They look forward to returning to South Florida to countdown to SunFest '22.
Parking
Banyan Garage: 200 Banyan Blvd., West Palm Beach, FL 33401
Evernia Garage: 333 Evernia St., West Palm Beach, FL 33401
Event Site/Designated Area Use and Enjoyment
Event begins at 6:00 pm. Gates will open at 5:30 pm.
Feel free to bring chairs and blankets.
Food service and concessions will be available on site. Patrons should follow all CDC guidelines.
Items Prohibited at the Event Site
1) Outside alcohol beverages.
2) Cannabis (marijuana), and/or illegal drugs.
3) Firearms or weapons of any kind.
4) Coolers.
General Rules
1) The City is not responsible for damage to personal property.
2) Please do not leave your children unattended. Minors must be accompanied with an adult (person over 18) of your party at all times.
3) The City reserves the right to cancel the event or provide a band which differs from the one advertised. In the event of a cancellation, ticket holders will be refunded the monies for any TheClubVIP ticket purchased (less Eventbrite Fee). No refunds, exchanges or rain checks for SunFest ticket.
4) Please follow all posted instructions while visiting our facility.
An inherent risk of exposure to COVID-19 exists in any public place where people are present.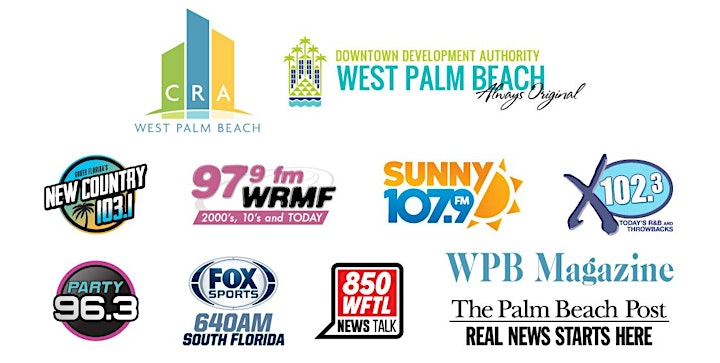 Organizer of Clematis By Night Countdown to SunFest '22 Mini Music Fest