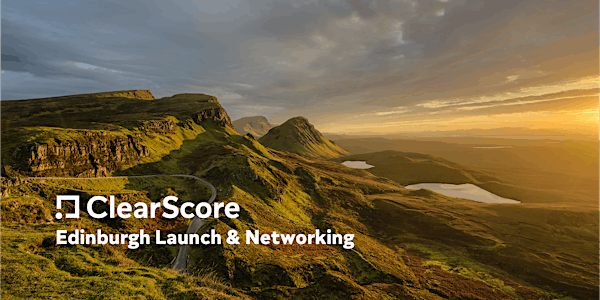 ClearScore Edinburgh Launch & Networking
Location
Kimpton Charlotte Square Hotel
38 Charlotte Square
Edinburgh
EH2 4HQ
United Kingdom
How ClearScore is building data-led, user-first products to help people's financial wellbeing.
About this event
We are hosting our  in-person launch event to celebrate ClearScore's Edinburgh hub launch and we are excited to welcome you to join us!
Join us for an exciting evening of announcements, presentations and networking in a relaxing environment where you can socialise with your peers.
Agenda:
- Intro by the ClearScore Team
- A quick introduction on the team's expansion and ambitions for Edinburgh
- Talk & Q&A from Klaus Thorup, Chief Technology Officer, ClearScore: Creating a world-class technology culture that enables global growth
- Talk & Q&A from Matt Fenby-Taylor, Chief Product Officer, ClearScore: How product and design excellence can enable customer confidence when making financial decisions
- Networking session 7-9.
Why attend?
- Connect and network with like-minded individuals driving change in technology, product and design-led products
- Stay up to date with the most recent tech
- Expand your own product awareness
You can't miss this event if you:
- Want to hear why ClearScore is expanding in Edinburgh
- Want to learn about creating a world-class culture and enabling customer confidence through product and design
- Want to meet ClearScore's leadership and chat to the experts who have supported global products to scale: SkyScanner, Betfair, Soundcloud, Unibet, Gamesys
- Want to network with like-minded professionals and potential partners and reconnect with your network in Edinburgh
- Want to get in-depth knowledge of the fintech industry
- Are looking to find a job in engineering, technology, product, design, data analytics or customer operations
More about ClearScore
ClearScore is a business dedicated to helping our users improve their financial wellbeing. We are now the #1 way to access your financial data, including credit report and score, and Open Banking data. We are a financial marketplace working with most financial institutions in each of our markets. We operate in the UK, South Africa and Australia and have over 16 million users and 400 amazing people in our team.
ClearScore's vision is to help everyone, no matter what their circumstances, achieve greater financial wellbeing. We've started this journey by giving everybody access to their credit score and report for free, forever.
By combining a brand people trust, a product that is beautiful to use, amazing technology and deep analytics, we deliver a unique experience that helps people take control of their financial future