About this Event
We would like to invite you to our fourth annual re-seller training event in Stuttgart, Germany! Get an inside look at our latest releases as well as demonstrations on the brand-new features & integrations of EdgeWise, Verity, and Rithm for Navisworks.
You will also get to see a sneak preview of our development road map for the next 12 months. The training is open for attendance to all of our re-sellers worldwide. We are looking forward to seeing you there!
Below are the re-seller training requirements and agenda.
Coffee and refreshments will be provided.
Training requirements:
Laptop computer with EdgeWise; Verity and Rithm pre-installed
Please have AutoCAD and/or REVIT (V2020; 2019 or 2018) installed.
Please make sure you have the latest ClearEdge3D software pre-installed. Here is the link to our Website where you can download the latest releases for all the products: https://www.clearedge3d.com/software-updates/. If you are running an earlier version, please update before the training. Note: For EdgeWise please be sure to install all the steps (parts) of the software with your EdgeWise key inserted.
Please remember to bring your stand-alone dongle to the training. (Note: We will have a few extras at training).
For Verity/Rithm training, please download the training data from the link I provided above for installation. You will see, under Verity a link to download the training data. Please make sure you have it installed on your computer beforehand. If not, we can provide you access to Verity/Rithm at the training, but it would be best to have it pre-installed.
For EdgeWise, we will send you a link for downloading the training data that will be used for the training. Please download it beforehand.
For Verity/Rithm, please have Navisworks (Simulate or Manage) installed on your computer (V2018; 2019 or 2020).
If you do not have the software or the data installed/downloaded, we will be available from 12:00 to 12:30PM to assist.
Training Agenda - Thursday, September 19th
12:00PM -12:30PM Assistance with installation of the ClearEdge software & data sets.
12:30PM -2:30PM EdgeWise Plant & MEP training
2:30PM – 3:15PM EdgeWise Structure
3:15PM – 3:30PM Refreshment Break
3:30PM – 4:15PM EdgeWise Ducting & EdgeWise Building
4:15PM – 5:45PM Verity/Rithm training
5:45PM – 6:00PM Q & A
6:30PM – Dinner with Resellers at nearby restaurant
Restaurant Information:
Name: Schwedenscheuer
Address: Hauptstr. 71, 70771 Leinfelden-Echterdingen, Baden-Wurttemberg, Germany
Phone: +49 711 7978527
Restaurant Map: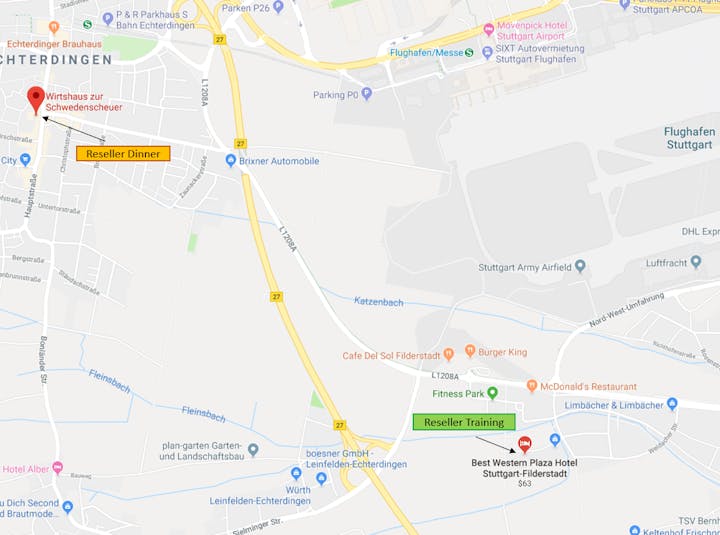 * Wirtshaus zur Schwedenscheuer is an 8 min drive/ 38 min walk from the Best Western Plaza Hotel Stuttgart-Filderstadt.
Please RSVP by Friday, August 30th.
NOTE: If multiple personnel from your company are attending the training, please make sure that each person registers individually. Also, please check whether you will attend:
The technical training
The Re-seller dinner (This will be held at a restaurant and details will be sent to all who registered)
Both, training and dinner.
We at ClearEdge3D are looking forward to meeting all of our re-sellers at the training!