Cleared for Takeoff 201+301: ADVANCED Class + FLIGHT Class Special Deal
Description

If you want to attend
The Cleared for Takeoff 201 Class
AND
The Cleared for Takeoff 301 Class
USE THIS EVENT TO REGISTER
And save $100!
BONUS: $25 Registration fee for spouses/partners/family/friends is waived!
---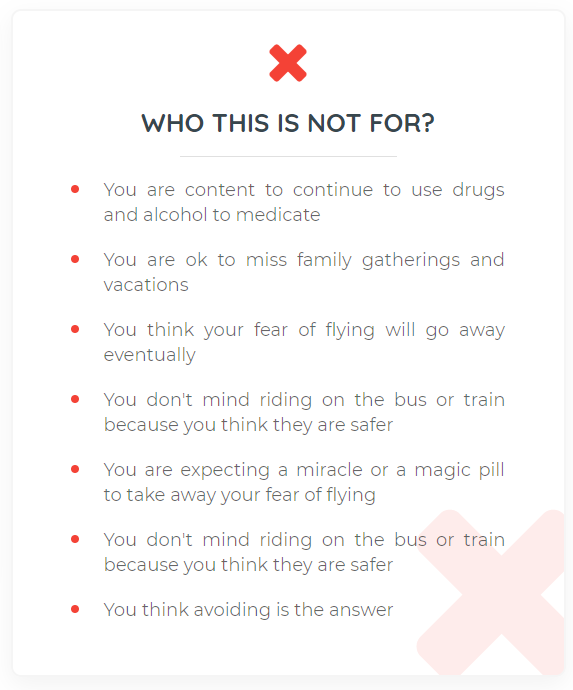 If you have come to this page and do not know yet what the Classes are about, please find out more about the


Cleared for Takeoff 201 – The Advanced Class and the
Cleared for Takeoff 301 – The Flight Class.
After that come back here to register here for both events if you want to attend the Class in the morning and fly with us in the afternoon, once and for all overcoming your fear of flying!

And don't worry if on the day of class, you decide it's not your day to fly.
All you need to do is cancel your Southwest Airlines tickets.
You will receive a credit that's good for up to a year from the day of when you purchased your tickets.
We here at FearlessFlight® will also honor your tuition for a full year.



100% MONEY BACK GUARANTEE!
If you complete the entire event including the flight option and are not 100% satisfied, FearlessFlight® will refund the class and flight tuition. FearlessFlight® cannot refund the cost of your Southwest Airlines airfare.
---
IMPORTANT NOTE:
TUITION DOES NOT INCLUDE AIRFARE
BOTH students and coaches need to purchase tickets from Southwest Airlines for the flights.
YOU MUST PURCHASE YOUR TICKETS ON YOUR OWN after you registered for the class!
Looking forward to meeting you and
Happy Landings
Capt Ron