Multiple Dates
Cleared for Takeoff 201: Advanced Class Flight
Actions and Detail Panel
Cleared for Takeoff 201: Advanced Class Flight
Multiple Dates
Sales Have Ended
Registrations are closed
Way to go! You are on your way to FearlessFlight!
Sales Have Ended
Registrations are closed
Way to go! You are on your way to FearlessFlight!
Description
A former student put it best when he said,
"If you want to overcome your fear of flying, sooner or later you've got to get on the damned plane!"
-- Tom
If you're near the Phoenix airport, there's no better or fun way than Capt Ron's CFT 201 -- The Advanced Class. Join a group of fellow fearful flyers and leave your fears behind.
CLICK HERE FOR DETAILS ABOUT THE CLASS AND GET SOUTHWEST FLIGHT INFORMATION, AND CLASS PREPARATION DETAILS.


This Is Where It All Comes Together: The Advanced Class
The Advanced Class was designed as a natural evolution to the classroom and airplane visit parts of Capt Ron's Cleared for Takeoff LIVE. This class combines a classroom workshop that focuses on coping techniques and strategies with the opportunity to desensitize your fears by exposing them to a static airplane. Flying with the Advanced Class is ultimate lab to test your new education and coping skills during a short round-trip flight to a destination within approximately an hour of the Phoenix airport.



A short flight and the satisfaction of saying "I did it!" goes a long way toward lowering your anxiety before setting off on your own—especially if you haven't flown for awhile or you have an important trip coming up. The real benefit of the class is having support from me and a group of like-minded flyers and the opportunity to fly successfully on two back-to-back short flights to assist you toward the common goal:

overcoming fear of flying

.
Meet David Buccolo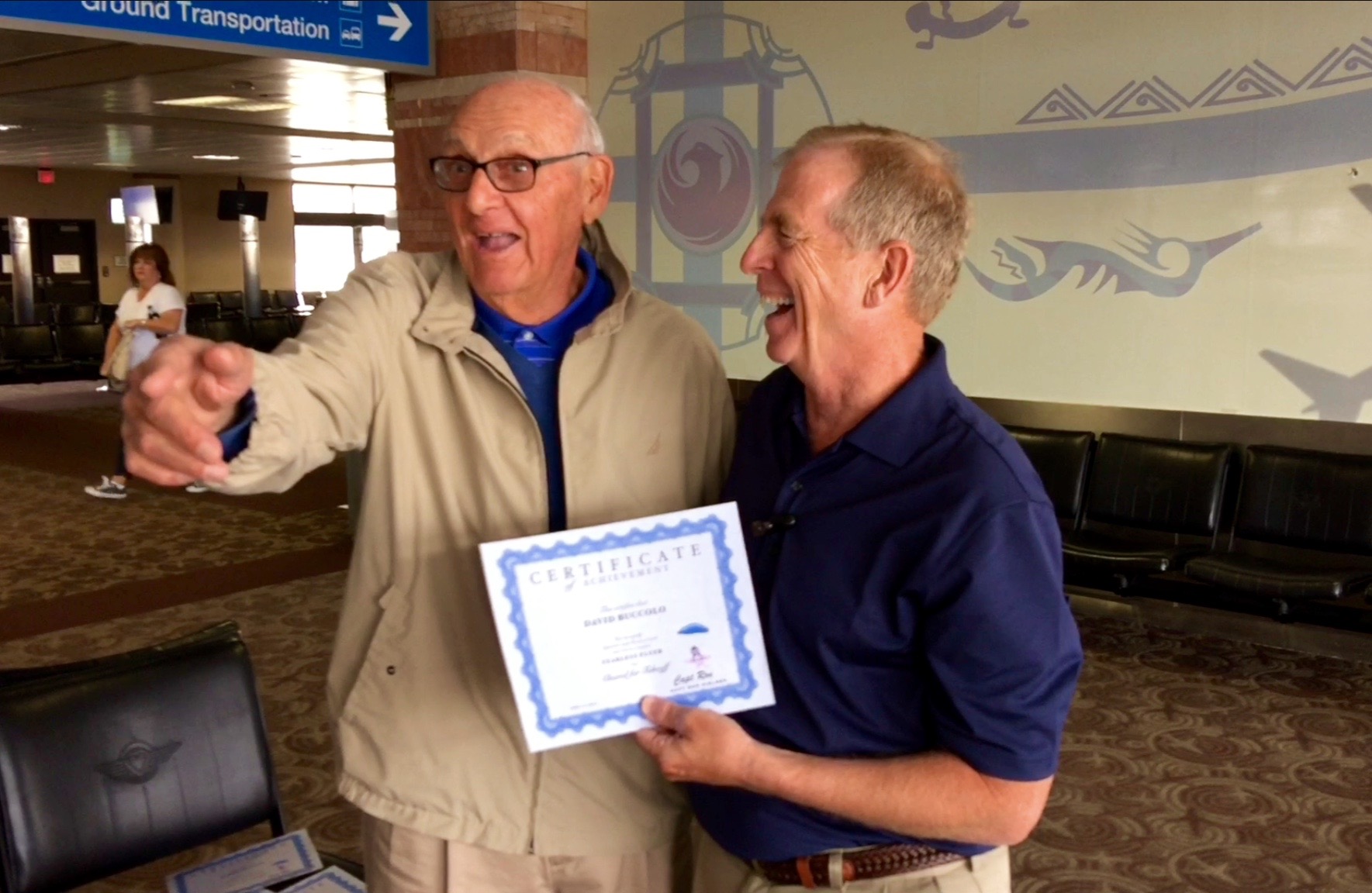 David started coming to our classes 4 or 5 years ago. He's a retired school teacher and hadn't flow for decades. He flew regularly in the Marines but like so many, his comfort level changed and he became too anxious to fly. It was a couple years and multiple classes before David found the courage to get back into the air. He still comes to class to "pay it forward" but also to keep reinforcing the skills and strategies he's learned. And he's flown with the Advanced Classes 5 times now. Talk about determination. As a former high school teacher, David knows the importance of learning and commitment. I have had several past students ask to fly again. In fact, one formerly fearful flyer has come back to fly 5 times! Needless to say, he's flying fearlessly -- and he's 77 years old! If you want to fly, you can. Just ask David!
How Do I Know I'm Ready for The Advanced Class?
The most important thing you can do is to prepare for the Advanced Class in advance. Cleared for Takeoff LIVE is the most obvious and logical way to prepare but is not a prerequisite for the Advanced Class. Many students use self-study and purchase the FearlessFlightTMKit and combine it with an hour of one-to-one coaching as an alternative to attending CFT LIVE and experience the same results. If you have the time and it is convenient to get to the live classes at the Phoenix Sky Harbor International Airport, I highly recommend that you attend Cleared for Takeoff LIVE. Whether you attend live or choose self-study, we highly recommend preparing about three weeks before the Advanced Class. If you have any questions, CLICK HERE to contact Capt Ron.
Special Pre-flight Video and Preparations
The Advanced Class comes with it's own special protocol. Included is a Pre-flight webinar (live or pre-recorded and available as a download for later) to prepare you for the specifics of this flight but can be used as a sort of "Capt Ron in a box" for any future flight. In addition, we meet approximately 2 hours prior to departure time the day of the flight for yet another personalized briefing that includes the details of the upcoming flights. A big advantage of the Advanced Class is the personal attention from Capt Ron who's flown the routes that we will fly during the Advanced Class many times and has an intimate knowledge of what to expect from the actual flight procedures to the likelihood of turbulence. But perhaps the biggest benefit is the camaraderie that comes with flying with a group of like-minded fellow fearful flyers.
Together these elements combine to help you set your expectations which is essential to reduce the typical anticipatory anxiety that most fearful flyers experience leading up to a flight. Being able to set expectations is instrumental in putting yourself in control of your thoughts–the opposite of the out-of-control feelings that most fearful flyers experience. Expectations based on facts help to reduce your anticipatory anxiety, which is the type of anxiety that triggers most panic attacks.
The Day of the Flight: Fly to Destination and Then a Short Break for Lunch/Snack….
After the debrief, we will enjoy lunch or a quick snack during our brief layover and relax a bit. This adds to the realism of just what flying is all about—the safest and most efficient way to travel and have fun when you reach your destination. Sometimes student get bored waiting for the return flight. Imagine being bored!
Before you know it, it's time to board the plane for the flight home. Again, I go through a briefing as to what to expect as well as answer questions. This may be an opportunity for some to feel how fear "resets" itself. Perfect timing because you'll have Capt Ron right there to provide reassurance for the flight home.


Your Fearless Flight Back to Phoenix
The flight home is usually far different from the experience in the morning. Most flyers experience very few of the issues that once troubled them—as recently as when they arrived at the airport that morning. Don't be surprised to see some of your classmates fall asleep on the way home. It's true! Maybe even you. (And Capt Ron has been known to capture a picture of that for his scrapbook!)
After we deplane in Phoenix, we'll again have a short debrief before sending everyone off as newly launched Fearless Flyers! This includes a group picture and some heartfelt cheers.
Registration Information
First, get the flight information:
CLICK HERE FOR DETAILS ABOUT THE CLASS AND GET SOUTHWEST FLIGHT INFORMATION, AND CLASS PREPARATION DETAILS.
Next, register for the class by clicking on the desired class date from the dropdown below.
Finally, CLICK HERE TO PURCHASE TICKETS AT www.SOUTHWEST.COM
DO IT NOW BEFORE THE PRICE GOES UP! "WANNA GET AWAY" FARES ARE EXTREMELY TIME SENSITIVE.
Remember: The tuition is $150 and is payable for STUDENTS ONLY. Registration for spouses/partners/family/friends are free but limited to one unless you have special circumstances. Only students pay the tuition, but all students and coaches (spouses, partners, friends, family, etc) need to purchase a ticket.
Time is of the essence to get your tickets as Southwest waits for no one in raising the internet fare as the flight gets closer.
If you want to leave your fear of flying on the ground, this is the best and most fun you'll have doing it!
Book What If I Get to the Airport and I Don't Feel Ready Fly?
It's rare, but it happens. I never "push" people to go beyond their limits. But consider this: The most difficult aspect of getting past fear can be going through it. And you have to go through your fear to get to the other side. Remember, "Courage is not the absence of fear but rather going forward in the face of it." So if you don't fly on the day of class, you've taken a big step toward going forward in the face of your fear. Some of my biggest heroes are folks who did not fly the day originally scheduled but returned to fly in a subsequent class.
Southwest Airlines policy should you decide not to fly:
No Show Policy: If you are not planning to travel on any portion of this itinerary, please cancel your reservation at least 10 minutes prior to scheduled departure of the flight. For tickets purchased on or after May 10, 2013 and travel beginning September 13, 2013, Customers who fail to cancel reservations for a Wanna Get Away or DING! fare segment at least ten (10) minutes prior to travel and who do not board the flight will be considered a no show, and all remaining, unused funds on this reservation will be forfeited, including Business Select and Anytime funds.
FearlessFlight will do the same for the student tuition, giving you a credit for up to one year to return to the class.
CLICK HERE FOR DETAILS ABOUT THE CLASS AND GET SOUTHWEST FLIGHT INFORMATION, AND CLASS PREPARATION DETAILS.
Repeat Flyers - $100 Off!
Many graduates return to fly with us again and again to reinforce their skills and prevent relapsing. If you have previously taken the Advanced Class and would like to fly again:
Send an email to captron@fearlessflight.com.

Mention you are a repeating flyer and request a special coupon code ($100 discount).

Go to www.southwest.com and purchase your ticket - IMMEDIATELY!

The "Wanna Get Away" Fare is VERY time sensitive; the closer the travel date is, the more expensive it becomes.
Whatever you decide remember:
"If you want to overcome your fear of flying, sooner or later you've got to get on the damned plane!"