Cleared for Takeoff 201: ADVANCED CLASS - Build YOUR FearlessFlight® Plan!
Description
Are you tired of being anxious or terrified of flying on an airplane?


Are you missing out on job opportunities, vacations or important family events because your Fear of Flying is keeping you grounded?


Do you have a flight coming up and don't know where to start or what to do next?


What if there was a class that you can attend which is taught by a 40-year Veteran Pilot and someone who holds a Master's Degree in Professional Counselling and someone who has worked with thousands of Fearful Flyers just like you, for the past 31+ years?
Introducing….
Cleared for Takeoff 201 – The Advanced Class
"Build YOUR FearlessFlight® Plan!"
In this one-of-a-kind experience, I have painstakingly and methodically broken down exactly what you need to learn about and apply, if you are serious of overcoming your fear of flying, into a simple 7-Step Process.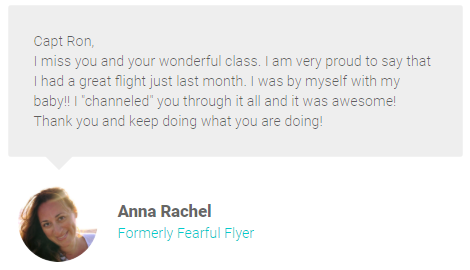 As you know, the fear of flying is actually an anxiety disorder, or also often referred to as flight phobia.
A phobia is an intense fear that is out of proportion to the danger, which is particularly relevant to fear of flying.
Like most anxious fliers you probably know the statistics and most likely even agree that flying is safe.
Yet you have a have a hard time reconciling your very real fear with the facts about aviation safety statistics.
Although you know your phobia is not logical, you cannot "think" yourself out of it.
You need something more powerful!

You need a Proven System so that you can finally build YOUR Personal FearlessFlight® Plan!

You need this class!
That is precisely why each of the 7 Steps contains a Specific Power that once understood and applied, will finally provide you the confidence and competence to board any airplane, any time.


This class is designed to prepare you for the next logical step, getting on and airplane and put into practice what you just learned.
Let me tell you, together with the Cleared for Takeoff 301 – The Flight Class, there simply is no better and faster way to overcome your fear of flying, anywhere in the country or the world. Period.
But of course you are thinking, that's easy for you to say Capt Ron...
And after 31 years of experience of helping thousands of fearful fliers just like yourself, I completely agree with you!
Don't take my word for it...
Instead, here is what one of my recent graduates, a formerly fearful flyer named Jim Duke, has to say about his experience of the class:

"My fear of flying story begins in 1986 when I experienced a terrible flight filled with turbulence and a very rough landing.
At that point, I said that I'd never fly again.
As a result of my fear, I was limited to travel by car and by train. Yes, I enjoyed the scenery on long train trips, but the length of the trips were exhausting. And there are some places that my car and Amtrak just can't go!
About half a year ago, I decided to do some research on programs that might help me with my fear and anxiety. I found out that there were plenty of options—therapy, hypnotism, drugs—but none of them seemed right for me.
And then I discovered "Capt Ron's Fearless Flight.
I explored every part of the web site, watched some of the videos of his many television appearances and read the course description for "Cleared for Takeoff 201" Class. I decided that this program would probably be the right choice for me.
I signed up immediately and began looking forward to going to class. As soon as I signed up, I began to feel less anxious about actually flying.
The Cleared for Takeoff Class was amazing. Captain Ron taught us so much about aviation and how flying is safer than driving on the freeway, a lesson that wasn't lost on me as someone in front of me nearly caused an accident on my way home.
Following Cleared for Takeoff 201 Class, those of us who wanted to put what we learned into practice went ahead and took the Cleared for Takeoff 301 Flight Class.
I have to say that I completely surprised myself. I handled both flights like a champ…no stress, no nervousness, no flashbacks to the flight in 1986. I actually had fun! I'm looking to fly again soon just to practice my new skills.
The first step in overcoming your fears is to acknowledge them. You are probably already there if you are reading this.
The second step is doing something about it. If you are looking for a program that will help you get on an airplane, this is the one. Trust me…my friends were stunned when I posted a video of our plane taking off. They just couldn't believe I was on a plane.
Capt Ron, I will forever be grateful to you and your entire FearlessFlight team for giving me my wings again!"
Jim Duke

---

31 years! I sincerely hope you won't wait this long! I hope Jim's story inspired you to take the next step and register for class.
Here are the 7 Steps that you will be learning about in class in more detail:
Step 1: The Power of Biology
First, we need to take a closer look how exactly our brain hijacks our emotions and why you can't just think your way out of an evolutionary process that is millions of years in the making.
Step 2: The Power of Awareness
In this next step, you will learn the single most important key to controlling your fear and negative self-talk. You can't solve a problem until you know what solutions exist.
Step 3: The Power of Focus
Once you understand the key to controlling your fear it is time to learn the power of your mind and how you can use it to your advantage.
Step 4: The Power of Choice
Simply put, whether you think you can, or think you can't, you are right! In this step we will examine your past experiences and more importantly, the limiting beliefs that keep you grounded or in terror of boarding and flying on an airplane.
Step 5: The Power of Myth
Commercial aviation is by far the safest mode of transport. We investigate the many myths about airplanes, turbulence, etc. I will also demonstrate to you how your brain is designed to naturally fill in the gaps with negativity, all of which affects your perception about flying.
Step 6: The Power of Knowledge
Knowledge is Power. In this step you will have the unique opportunity to learn from an experienced pilot about both the technical and emotional aspects of flying which will help you finally overcome your fear of flying. When you know better, you do better!
Step 7: The Power of Change
This is where we put it all together for you! You will learn the most powerful tools and effective strategies that will help you manage your negative thoughts and perceptions about flying and help you get on an airplane.
The next step is yours...
Register now to secure your spot in class. Next, remember that this class is designed to prepare you to take the next step, which is to get outta' your chair and into the air.
This is why immediately following this class, there is also a Cleared for Takeoff 301 - Flight Class scheduled.
We will be getting a transfer from the class location to Phoenix Sky Harbor Airport and put into action what we just learned by boarding a Southwest Airlines flight.
I highly encourage you to consider this if you are serious about overcoming your fear of flying.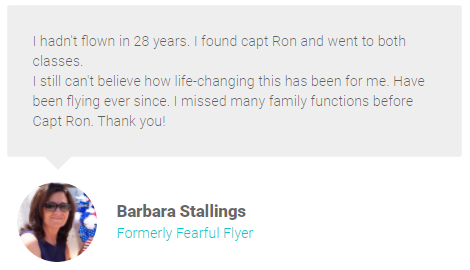 In my 31+ years of helping fearful fliers, this format, attending the Advanced Class in the morning and flying with us in the afternoon of the same day has the absolute highest success rate!
If this is of interest to you, you must register separately for the Cleared for Takeoff Flight Class.


Please be aware also that you will need to purchase your airplane tickets separately and the sooner you do, the cheaper the tickets will be for you.
Whether you fly with us that day or leave it for another day, this class will provide you with what you need, so don't delay and register today!
Here is yet another testimonial from a formerly fearful flyer, the wife of a pilot no less:
"Attending the Cleared for Takeoff 201 Class was the best decision I have made in a long time. Capt Ron and the whole FearlessFlight team is compassionate, kind and extremely empathetic.
Capt Ron's positive energy and approach to facing your fear helps you realize your full potential in this world. There is a great, big world out there waiting for me and it's my time to go out there and live my life to its fullest.
Having other "no-longer fearful flyers" is empowering and seeing others tackle their fears is helpful to the process.
Do this. Do this now so you can travel and see your family without taking expensive trains and god-awful buses!
Take control of your negative thoughts and perseverating self-doubt with a little help from Ron and his team. You got this!"
Andie Wixom
---
Looking forward to see you in class and
Happy Landings
Capt Ron and the FearlessFlight Team