Description
LOCATION
California State University, Fresno
North Gym 118
5200 N. Campus Dr.
Fresno, CA 93740
PARKING
Where: Yellow Lots: K, L and M
Green Lots: Q and G
How: You will need to obtain a printed parking pass from one of the permit dispensers. Permit dispensers can be found in the following areas:
Lot Q: Lot Q has three permit dispensers
Lot G: Lot G has two permit dispensers
Parking dispenser directions: Please follow the directions on the parking dispenser screen. When the screen asks for a Coupon Code, enter "1" for Yes, then enter parking code: 500503
Please wait for your parking permit to print and display this on your dashboard.

SUMMIT AT-A-GLANCE
All activities take place in the North Gym 118, except Breakout Sessions. Please see next page for Breakout Session room locations.
7:30 a.m. – 8:30 a.m.
Registration & Continental Breakfast
8:30 a.m. – 9:30 a.m.
Welcome
MC - Dr. Janell Morillo
Dr. Ken Magdaleno, Executive Director
9:30 a.m. - 9:45 a.m.
Break / Passing Time
9:45 a.m. - 10:45 a.m.
Breakout Session I
10:45 a.m. - 11:00 a.m.
Break / Passing Time
11:00 a.m. - 12:00 p.m.
Breakout Session II
12:00 p.m. - 1:00 p.m.
Lunch
1:00 p.m. - 230 p.m.
Keynote Speaker
Kay Iwata
2:30 p.m. - 3:30 p.m.
CLEAR Presentation
Baird Middle School Mentoring Program
3:30 p.m. - 4:00 p.m.
Wrap-up
A Call to Action: Transforming Our World Through Mentoring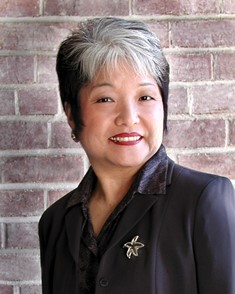 Kay Iwata is an internationally recognized and respected management consultant, researcher and author. She has over 25 years of experience in Diversity and Inclusion, strategic planning, assessment, action planning, performance coaching, and leadership and management development and training. Culture and leadership are the two critical components to creating high performance organizations. Successful cultures have systems and practices that focus on the organizational capability to tap the full potential of its diverse workforce. Ms. Iwata has developed an effective cultural assessment model, one that integrates the qualitative with the quantitative. The analysis directs actions and resources to areas of opportunities that maximize the ability of the organization to fully utilize talent and serve its customer base. The second component is to identify, develop and engage diverse talent throughout the organization. Ms. Iwata has worked extensively with leaders and their teams in a variety of effective developmental processes.
Breakout Sessions include:
Building Entrepreneurial Skills Through Mentoring

College Opportunity Ambassadors Mentoring Project

Focus Forward

High School Bigs Mentoring Program

Mitigating Undermatching: A Cohort Mentorship Program

Moving Beyond Basic Skills in Community Colleges: The Beliefs and Practices of Culturally Responsive Peer Mentors

SCORE - Business Mentoring for small business in an underserved community

Student Success and Research Mentoring in STEM: Student and Faculty Collaboration in the Production of Geoscience Scholarship

To Give the Most and Receive the Most in a Mentor Relationship

A Mentoring Model to Aid in Student Persistence
Organizer of CLEAR Third Annual Mentoring Summit
The Center for Leadership, Equity, and Research (CLEAR) is dedicated to eliminating educational and social disparities which impede equitable opportunities and outcomes for all students and the communities from which they arrive. This includes advocacy by its leadership which is called upon to intentionally amplify a collective voice of educational leaders and allies through a forum of professional learning, political action, and community empowerment.