In just 45 minutes, find out exactly how to CLEAR THE FEAR and free yourself to move forward to getting the results you want from life!
About this Event
What is Fear Holding YOU Back From?
It's Time to:
CLEAR THE FEAR!
Is FEAR holding you back from moving forward toward your goals and dreams? What would you ACHIEVE, where would you BE, what LIFE would you be living if you had NO FEAR?
Are you scared of:
* failure?
* what others may think?
* the Coronavirus?
* making mistakes?
* taking risks?
* not having enough?
* not being good enough?
* losing a relationship?
* losing money?
* losing a career?
* losing property?
* losing everything?
* running out of time?
* regret?
* illness?
* physical symptoms?
* death?
* speaking out?
* being yourself?
* standing up for yourself?
* charging what you're worth?
* loving or being loved?
* being left out or left behind?
* a particular person?
* the future?
* politics?
* insects?
* a particular animal?
* the dark?
* being alone?
* crime?
* ______________?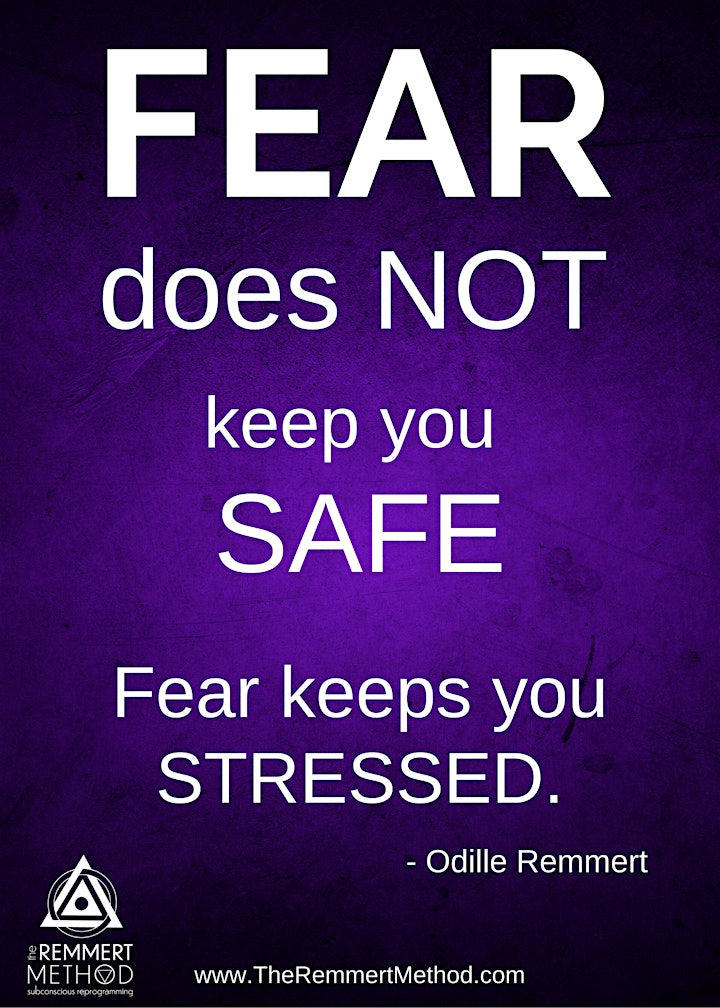 Regardless of what you're frightened of, the FEAR of it won't keep you safe.
Contradictory to what many believe:
FEAR does NOT keep you safe. Fear keeps you stressed.
And when you're stressed, you can't think clearly... which means you're unable to find solutions, make wise decisions and take strategic action.
For this reason, fear is more likely to put you in danger than keep you safe!
What would your life be like if you weren't frightened of anything? If you were completely fear-free?
During this free 45-minute Empowering Online Event, find out exactly how to CLEAR THE FEAR and free yourself to move forward toward the results you want and deserve in life.
> Learn exactly what fear is - what's happening, physiologically in your body when you feel fear, and why it's so difficult to not feel the fear
> Find out what the REAL cause of fear is (regardless of what you're frightened of)
> Use the simple, fast, 3-step process to clear your fear so you can move forward with whatever it is you want to achieve in life
> Watch the LIVE DEMONSTRATION on a volunteer from the audience - clearing fear in real time
> Get your questions answered in the LIVE Q & A
Meet Odille Remmert
Inspiring, warm, and engaging, Odille Remmert is an international mindset coach, speaker, and author, who has a gift for connecting with an audience that allows for powerful transformation.
Her ability to bridge the gap between neuroscience and overcoming life's challenges to achieve dreams and goals, empowers all audience members to start experiencing transformation, immediately, in the room.
​Odille's passion is helping individuals to step into their authentic power by gaining control over their physiology and by changing the roots of limiting subconscious beliefs.
Questions about this event?
Email: odille@TheRemmertMethod.com
We're looking forward to seeing you there! :)