About this Event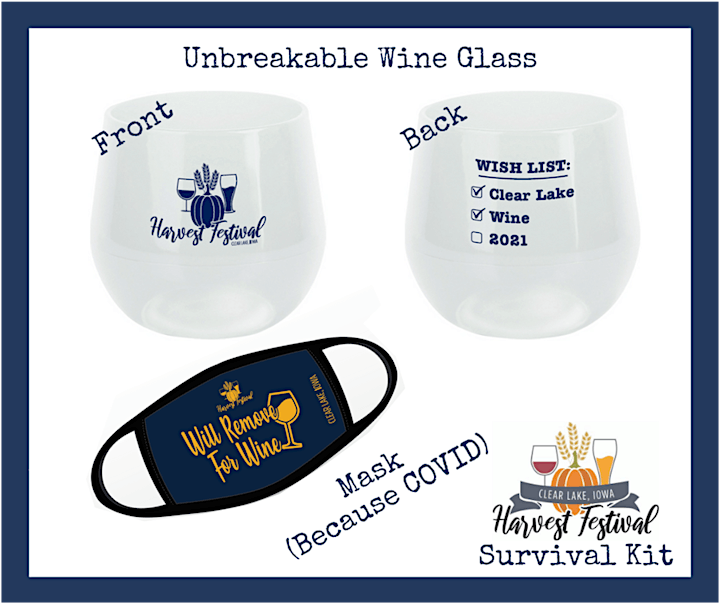 Survival Kits are available while supplies last!
"Harvest Festival Survival Kit" Souvenir Bag - $35:
• Tons of coupons which can be used throughout the month of October
• Poncho (in case it rains)
• A mask (because COVID)
• Silicone wine glass (that won't break if you drop it)
• And more fun items added as the planning continues!
"VIP Harvest Festival Survival Kit" Souvenir Bag - $75 (SOLD OUT):
• All of the great items listed above
• A jute tote bag with the "Wish List" design
• Access to the VIP lounge complete with pre-packaged charcuterie box for every VIP .
Here is what you can expect:
• All vendors will be located outdoors and spaced to ensure a safe distance between each other.
• Samples will be in lidded pre-packed containers. Pouring samples directly into the souvenir glasses will be prohibited.
• To reduce congestion, samples cannot be consumed in line. Grab your samples and go.
• Vendors will have a separate retail line to purchase full bottles of wine, beer, and spirits.
• Music will be located in City Park to allow for ample space to spread out.
• There will be no salsa contest, grape stomp, trolley rides, waiter races or pumpkin roll.
• All vendors will have hand sanitizer or hand sanitizing stations at their location.
• We recommend you wear a mask when you are unable to maintain a distance of 6ft. from other individuals.
• We ask that you do not attend if you are ill with a fever, cough, difficulty breathing, lack of taste or smell, fatigue, muscle or body aches, headache, sore throat, congestion or runny nose, nauseous/vomiting, or diarrhea.
• Also, individuals over 65 years of age, with underlying preexisting conditions, or pregnant should not attend.
Event schedule:
• 9 a.m.-4 p.m. Vendor Market
• 12-4 p.m. Wine, Beer, and Spirits Sampling
• 12-4 p.m. Music in City Park
Disclaimer: Given the ever-changing atmosphere of our World pertinent to COVID-19, we reserve the right to cancel this event at any time due to new restrictions or regulations put into place at the State and City levels. As much as we want the show to go on, we must do so in a way that provides a safe environment for the protection of all within our community. If the event is cancelled prior to September 8th, attendees will receive a full refund. If the event is cancelled after September 8th, attendees will receive their Harvest Festival Survival Kit as a souvenir to commemorate this crazy year.
Click here to visit our Harvest Festival Store featuring shirts, sweatshirts, and tote bags! (Survival Kits must be ordered here via Eventbrite.)