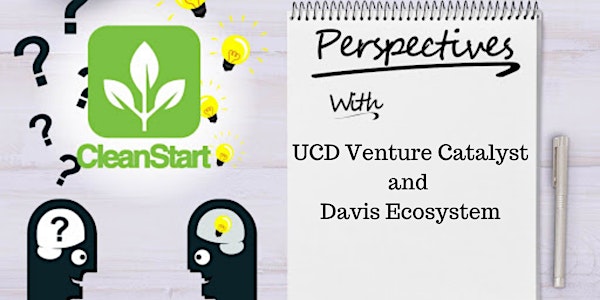 CleanStart Perspectives: UCD Venture Catalyst and Davis Ecosystem
Meet Janine Elliott, who recently joined the team at UC Davis Venture Catalyst, as we explore the Davis innovation ecosystem.
Date and time
Tuesday, October 12, 2021 · 9 - 9:30am PDT
About this event
Join us as we talk with Janine Elliott, Assistant Director of UC Davis Venture Catalyst. Janine recently joined the team and is passionate about supporting the innovators and institutions who address real, tough, social and environmental problems through market-oriented approaches.
CleanStart Perspectives are short online conversations to connect the greater Sacramento clean tech entrepreneurship community and share insights, experiences, and outlooks. Join us as we welcome our featured guests to share their perspective on what entrepreneurs and innovators can do to thrive and grow.
Register and we'll send you the Zoom login information prior to the meeting time.
CleanStart Perspectives are recorded through Zoom.
About the organizer
CleanStart has been promoting the cleantech industry in the region and helping the companies be successful for over a decade.  In 2005 we said we could create 10,000 jobs and $5 billion in revenue in a cleantech sector and over the last 10 years, obs grew  from 800  to 4200 and revenue from $660 million to $2.5 billion. A number of new companies launched in the region during this time period including Sunoptics (acquired by Acuity), Synapsense, CleanWorld, Bluon, JLM Energy, Sierra Energy, Tenkiv, and GreyRock Energy.  Marrone Bio-Innovations had a successful IPO.