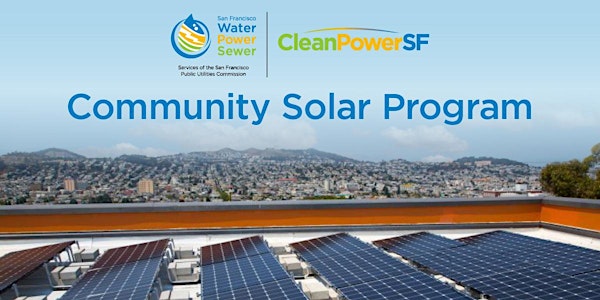 Multiple dates
CleanPowerSF Community Solar Sponsor Webinar
The San Francisco Public Utilities Commission (SFPUC) is excited to invite you to our CleanPowerSF Community Solar Sponsor Webinar.
By San Francisco Public Utilities Commission
Date and time
August 31, 2021 · 12pm - September 2, 2021 · 6:30pm PDT
About this event
The San Francisco Public Utilities Commission (SFPUC) is hosting two webinars on CleanPowerSF's new Community Solar program for San Francisco non-profit and community-based organizations. The Community Solar program requires that a local organization partner with the developer of new solar installation in San Francisco to help advertise the project and assist individuals and families with enrolling into the Community Solar program. The two webinars will specifically focus on the Community Solar program and explain the benefits of becoming a Community Sponsor, eligibility, how it works, etc.
Please register for one* of our two upcoming sessions:
Community Solar Sponsor Webinar #1: 8/31/21 12 - 1 p.m.
Community Solar Sponsor Webinar #2: 9/2/21 5:30 - 6:30 p.m.
*Both meetings will cover the same content, so please only register for one session.
If you have any questions about the meetings, please email Jackie Randazzo at jrandazzo@sfwater.org.
Please forward this email to other non-profit or community-based organizations in your network.
Logistics
The virtual format (accessible via a phone or computer) will allow attendees to participate and ask questions. Ahead of the meetings, we will send video conferencing links and technological instructions to registered guests.
Thank you for your patience and flexibility. For questions about accessibility or to request accommodations, please contact jrandazzo@sfwater.org.
About the Community Solar Program
CleanPowerSF's Community Solar program will provide 100% renewable electricity to participants from a new solar project in San Francisco and a 20% discount on their monthly electric bill. This program will be available to San Franciscans living in disadvantaged communities (DACs) within five miles of the new solar installation. The solar project will be located on a building so no residential solar installation is required. The program is expected to tentatively launch in 2023.
About CleanPowerSF and the SFPUC
The SFPUC launched CleanPowerSF in 2016 with a mission to provide San Francisco residents and businesses with clean, renewable electricity at competitive rates. CleanPowerSF now serves about 380,000 customer accounts in San Francisco. Along with CleanPowerSF, the SFPUC operates Hetch Hetchy Power, which provides 100 percent greenhouse gas-free energy to public facilities such as City Hall, schools and libraries, some private commercial developments, and affordable housing. Collectively, the two systems meet over 70 percent of the electricity demand in San Francisco.