CLEANING INDUSTRY TRAINING STANDARDS (CITS) Master Certification Series * P...
Description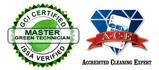 How to Articulate Your Value
If you or your operation is fighting to stay viable in your market… if you or your operation is seldom appreciated for the part you play in the protection of personal health… if you are continually frustrated by others not recognizing your worth and you feel like no one hears your message … then this message is just for you.
Here's why…
This one week course will
outline a roadmap for your progress,

detail how to itemize your work schedule,

give you verifiable education on healthy processes,

transform your thinking about Green

and you will create a draft of your WOW statement presentation and sell sheet.
And of course you realize, there is a serious cost to not deal with this…
If You Don't Change,
Current Issues Just Get Worse
What most people do when facing a lack of focus and direction, is to take advice from someone else who is not in tune with their issues, grab a self-help book, listen to a friends' advice or just do nothing at all. But for most people, none of that works.
Self-help books aren't focused on YOUR value in THIS industry.

Advice from others does not display YOUR commitment.

If any of that had worked, you wouldn't be reading this now.
And what happens if you just do nothing? If you just keep doing what you've been doing? You and your operation will continue to have the issues of what some call the revolving door. There will continue to be a lack of respect for what you do, unless you know your value and communicate that to your customers.
How I Found Respect
I've got an answer that works and it's called EDUCATION. Here's my story:
In 2006 I had been selling toilet paper and listening to people telling me that I should help others with the knowledge I've gained from over 30 years in the cleaning business. So I started traveling the state of Missouri with a trailer of equipment, products and supplies used by custodians in schools, conducting 3 day workshops for frontline workers.
Suddenly, there were superintendents, teachers, bus drivers, students and of course custodial personnel listening, to my every word.
What they had never heard of was a professional development education program with a certification, demonstrating their commitment to advancement. Today, that education makes it possible to earn an International Sanitary Supply Association (ISSA) verified certification.
While the certification by itself, does not gain recognition or respect, applying the education certainly will.
Using the knowledge you are about to receive, I have moved from a custodian in a school to President of GCI Certified, just don't let it take you as long as it did me!
This Class Has Been Valuable for These People,
And It Will Be for You
Even veterans of this industry with years of exprience can acquire new knowledge from this class. Just look at Bob Zagers Sr., a recent graduate of the Master Technician class. His goal for attending this class was to learn what Green really meant, but what he discovered was a completely different vision of how Green relates to individuals, operations and facilities. Bob also learned information about some of the tools of the trade, which he had not been aware of. As a result of the interactive nature of the Live class environment, Bob hardly ever put his pen down.
_______________________________________________________________________________________
I say the following with no exceptions or reservations, "All of your team members should go through Dave's Master Certification class, as it will not only help in the sales of your ideas, operation and or program, but it will make them better staff members by having a better outlook on the future of the Jan/San industry!"
John Carroll
ChloMax Sales & Consulting, LLC
Palmetto, FL
Now Finally, It's Your Turn to Find Your Voice
When you sign up for the Master Green Technician course today, you'll get the keys to…
Articulating your VALUE as a professional in Environmental Health Services.

Understanding the TRUE meaning of Green and how it relates to your HEALTH.

Benchmarking where your health services program is today.
It all comes with the full Masters Course;
You will come away with a working sell sheet to promote your value as a Master Technician within your workplace. ($1000)

You will have a working model of work loading in a specific facility that you maintain. ($300)

You will have 9 ISSA Verified certifications from ACE and GCI Certified. ($999)

You wil have Access to the ISSA Verified, GCI Technician course for 2 frontline staff members. ($300)
This is a $2600 value if purchased separately.
If for some reason you're not delighted with the exchange of information between the class attendees and myself, the interaction you have with other industry professionals, the materials you will be able to take back to your workplace, and the overall experience of a Live class, then just let me know - and you get 100% of your registration back, via a check, directly from GCI to you.
It's Decision Time
There is a choice to make: Do what you've been doing (or worse, do nothing at all). You know where that will lead. Is that really where you want to go? It's time to take a new and exciting change, and get a new and exciting results. Finally get the professional development education, that make you proud of Your real value to the newly emerging, environmental health services industry.
What is Really Best for You?
Here's what to do now… Simply click on the registration button Above and fill out the Eventbrite form. Remember, that once you have registered, I will send you a link to the GCI Certified Technician course for you to complete online before coming to the Live Class at Gem Supply in Orlando.
I can't wait to meet you in person to exchange ideas and present you with your first of 9 certificates when you arrive.
David Thompson - Instructor