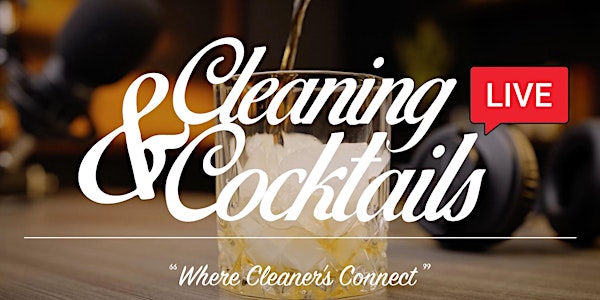 Cleaning & Cocktails Live - "Where Cleaner's Connect"
Cleaning & Cocktails LIVE will inform, inspire, educate, rejuvenate, and re-energize all who attend. Discover, share, learn and empower!
When and where
Location
Rozalado Services Headquarters 6120 North Pulaski Road Chicago, IL 60646
Refund Policy
Contact the organizer to request a refund.
Eventbrite's fee is nonrefundable.
About this event
STOP SURVIVING AND START BUILDING THE CLEANING COMPANY YOU HAVE ALWAYS WANTED TO OWN!
Join other like-minded commercial cleaning business owners and discover how to thrive and be profitable in today's economy. At Cleaning & Cocktails Live, you will learn about trends and best practices from experts and leaders in the industry. Space is limited to ensure attendees create genuine relationships as they share their biggest challenges and successes. You'll share challenges and successes while developing life-long relationships.
Hosted By : Ricky Regalado (Route) & Michael Brown (Swept)
Event - Welcome Reception networking on May 24th evening and then May 25th and 26th are the 2 days focused on speakers, sessions, networking, vendor expo.
Hotel Block Partner: Aloft Hotel - 9700 Balmoral Ave. Rosemont, IL 60018
Hotel Phone Number: 847-671-2064
Room Block Dates Available: May 23-27, 2022
Aloft is the only hotel connected to the Parkway Bank Park Entertainment District, a 200,000 square-foot entertainment and dining complex that is home to 14 venues offering upscale international cuisine, live music, comedy, state-of-the-art film, bowling and more. We are also located across the street from the Chicago Fashion Outlet Mall. https://www.rosemont.com/thepark/
For more information on the event, speaker lineup, speaking sessions and overall agenda: check out our new website - www.cleaningandcocktails.com
What's included with your ticket?
- All sessions & actives in the agenda (see below)
- 2 drinks at the Welcome reception
- Light breakfast (coffee & pastries) both days
- Lunch both days
- Dinner & Drinks on 25th
Agenda (Tentative, subject to change)
Tuesday May 24
6:00 p.m. - 8:00 p.m. Welcome Reception at Aloft Hotel, 9700 Balmoral Ave. Rosemont, IL
Wednesday May 25
9:00 a.m. - 9:15 a.m Welcome and Event kickoff talk
9:15 a.m - 9:30 a.m Past Attendee Feedback & Advice
9:35 a.m - 10:20 a.m Michael Brown: Creating A Leadership Mindset That Allows You To Repeatedly Set & Achieve Your Business And Personal Goals
10:30 a.m - 11:00 a.m Josh Melton:How to Attract Your Ideal Team Members
11:05 a.m - 11:20 a.m Jose Suarez, Ulises Ruelas, Richie Marrero The power of Networking and creating a Powerhouse network
11:25 a.m - 11:55 a.m Lance Briggs (NFL Hall of Famer) High Performing Teams
12:00 p.m. -1:30 p.m. Lunch/Networking/Vendor Expo
1:30 p.m. - 2:00 p.m. Rory Saleh: Addressing the Building Service Contractors Top Concerns Post-Pandemic
2:00 p.m. - 2:45 p.m. Corina Burton: Harnessing The Power Of Authentic Storytelling To Build Your Brand & Increase Sales
2:55 p.m. - 3:25 p.m. Frank Trevisani: The Art and Science of Chemicals
3:30 p.m. - 4:05 p.m. Marley/Ricky Regalado: Building A Business With Your Significant Other
4:10 p.m. - 5:10 p.m. Richard Montanez: Keynote Speaker
5:15 p.m. - 6:00 p.m. Dinner
6:00 p.m. - 6:45 p.m. Mike Boomrod: Fireside chat
6:45 p.m. - 8:30 p.m. Cocktails/Networking reception
Thursday May 26
9:00 a.m - 9:30 a.m Debbie Sardone: Lift As You Climb: How to Power Your Brand & Elevate Your Culture
9:35 a.m - 10:20 a.m Brant Inserno: Meeting Customer Expectations by Leveraging Industry Standards & Technology
10:30 a.m - 11:00 a.m Mark Lineberry: Three Strategies To Turn Your Clients Into Superfans
11:05 a.m - 11:35 a.m Diana Betancourth: Session name TBD: Topic Culture / Staffing
11:40 a.m - 11:55 a.m Gerren Sprauve: Don't Just Drive. Let's Carpool! The Power Of Collaboration
12:00 p.m. - 1:30 p.m. Lunch/Networking/Vendor Expo
1:30 p.m. - 4:10 p.m. Interactive sessions
Split into five groups and cycle through five 30 min interactive sessions (equipment, chemicals, software, etc)
4:20 p.m. - 5 p.m. Rozalado team: How we scaled form $1M to over $10M in 30 states
5:00 p.m.- 5:10 p.m. Closing Remarks