Clean Water Westchester: Wastewater & Water Reclamation
Description
Clean Water Westchester: Wastewater & Water Reclamation
Exploring the Challenge & Opportunity for Innovative Solutions
Location: Elisabeth Haub School of Law at Pace University - Tudor Room
REMINDER: Space limited. Catering provided. Registration deadline Jan 10.
AGENDA
8:30am - Coffee & Registration
9:00am - Welcome Remarks & Introduction
Jason J. Czarnezki, Gilbert and Sarah Kerlin Distinguished Professor of Environmental Law; Associated Dean and Executive Director of Environmental Law, Pace University
9:10am -
A New Vision for Westchester: The Green Apple: Sustainable & Innovative
The Honorable George Latimer, Westchester County Executive
9:30am - Challenges to Westchester's Waste Reclamation Future (followed by Q&A)
Todd Ommen, Managing Attorney, Pace Environmental Litigation Clinic
Dan Shapley, Water Quality Program Director, Riverkeeper
10:15am - Funding Opportunities for Wastewater/Reclamation Projects (followed by Q&A)
The Honorable Steve Otis, NYS Assemblyman
Sabrina Ty, President and CEO, New York State Environmental Facilities Corporation
10:45am - Public Private Partnerships: Defining Successful Outcomes (followed by Q&A)
Lisa Diaz, Managing Partner, Turf Advisory
11:15am - Case Studies on Leveraging P3s: Nassau County, NY; Rialto, CA; Bayonne, NJ (Panel Discussion with Q&A)
Moderator: John Ma, Director, Infrastructure, First State Investments; Former Chief of Staff Port Authority NY/NJ
Table Rock Infrastructure Partners, Peter Luchetti, Managing Partner, Rialto
SUEZ, Nassau County, Kendra Morris, Director of Business Development
Argo Infrastructure Partners, Aaron Gold, Managing Director, Bayonne
12:00pm - Lunch
12:30 pm - Discussion of the Pilot Study for the New Rochelle Sewer District (followed by Q&A)
The Honorable Nancy Seligson, Supervisor of the Town of Mamaroneck and Trustee Westchester Joint Water Works
Arcadis
1:15pm - Meeting Westchester's Water Challenges: Optimizing Utilization of Existing Water Assets
Moderator: Kristin Bell, Assistant Vice President, NYC Economic Development Corporation
DHI, Eric Fontenot, Head of Urban Water Department, Senior Engineer
Kamstrup, George Efstatos, Regional Sales Manager
Ramboll, Richard Baldwin, Principal Consultant
2:00pm - Closing Remarks
Join Westchester County Executive George Latimer, other local leaders, and industry experts, for this informative symposium on the future of water reclamation in Westchester County. Topics to be explored include the current state of our water infrastructure, opportunities to work together as a County to achieve cost savings and improved environmental outcomes, and exploration of the latest technologies and business opportunities related to water reclamation. The day will include expert presentations, panels, and plenty of opportunities for questions and networking.
SPONSORS: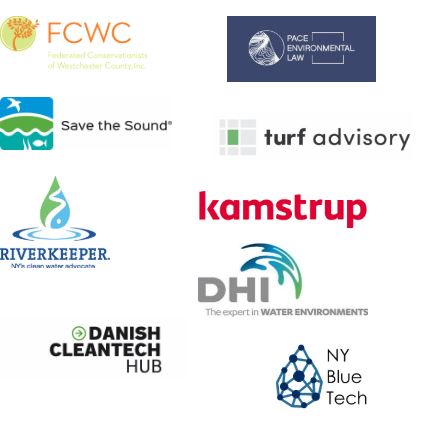 **SNOW DATE** Friday, January 18, 2019