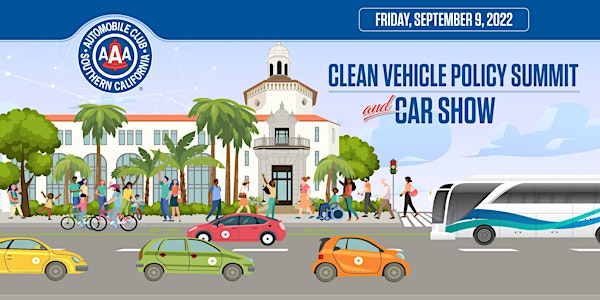 Clean Vehicle Policy Summit & Car Show
Join us at the Historic Auto Club Building in Downtown LA for a clean vehicle policy summit and car show featuring zero emission vehicles!
When and where
Location
Historic Auto Club Building in Downtown Los Angeles 2601 South Figueroa Street Los Angeles, CA 90007
About this event
Date and time
Fri, September 9, 2022
8:00 AM – 12:00 PM PDT
Location
Historic Auto Club Building in Downtown Los Angeles
2601 South Figueroa Street
Los Angeles, CA 90007
The Future of Clean and Electrified Transportation: A Policy Discussion | 8:00 AM to 11:00 AM
California is leading the nation into a future of clean vehicles. Come learn and participate in a discussion about this increasingly electrified future. Topics of discussion will include the cost of electric and other clean vehicle ownership and use; ensuring equitable access to clean mobility; vehicle technology, range, utility, availability, and choices; energy and charging availability, reliability, and cost; government goals, policies, opportunities, and challenges; transportation service and infrastructure solutions; and consumer perceptions, knowledge, questions, desires, and concerns. Come hear leading voices in transportation discuss these and related topics as California strives to achieve its air quality targets while ensuring equitable access to zero emission technology.
Speakers
Senator Dave Min | California Senate District 37
Kome Ajise, Executive Director | Southern California Association of Governments
Zanku Armenian, Director of Local Public Affairs | Southern California Edison
Joshua Cunningham, Chief of Advanced Clean Cars | California Air Resources Board (CARB)
Juanita Martinez, Regional Director, Government Affairs | General Motors
Megan McKernan, Automotive Research Center | Automobile Club of Southern California
ARC Open House | 11:00 AM to 12:00 PM
The AAA Automotive Research Center (ARC) started in the 1960s to provide information to policymakers and the public about vehicle emissions. Since then, the ARC's role expanded to include research and analysis on the latest vehicle technology, including automated and electric vehicles. The ARC also evaluates a broad spectrum of vehicles for the annual AAA Car Guide.
The state-of-the-art automotive test facility, located at the Historic Auto Club Building in Downtown Los Angeles, will host an Open House from 11:00AM to 12:00PM following the policy discussion. Come check out the ARC's temperature-controlled test cell with four-wheel drive dynamometer and learn more about its most recent advanced vehicle technology projects.
AAA Clean Car Show | 8:00AM to 2:00PM
Come learn more about electric vehicles, EV chargers, and more at this clean vehicle showcase. A variety of zero emission vehicles will be on display, ranging from battery electric and hydrogen fuel cell passenger cars to an all-electric Metro bus and FedEx delivery truck. Companies and agencies will be on hand to talk about charging equipment and other resources to help you drive emission free. The car show is open to the public.
Parking: Limited parking will be available off 27th Street just west of Figueroa.
Transit: Metro Rail E (Expo); Metro Buses 37, 81, J, and 4X; Dash F, 419, 422, 423.
COVID SAFETY – The Auto Club is committed to the health and safety of our attendees. Self-testing prior to these events and masks while attending are strongly encouraged. If you have any COVID symptoms, have been exposed to someone with COVID, or have tested positive for COVID, please do not attend. We appreciate your support and adherence to our safety protocols.
WAIVER – By registering for this event, you acknowledge there is an inherent risk of exposure to COVID-19 in any public place. By attending this event, you voluntarily assume all risks related to exposure to COVID-19 and agree not to hold the Auto Club liable.
REPORTABLE GIFT – Attendance at this event by a public official may constitute acceptance of a reportable gift.